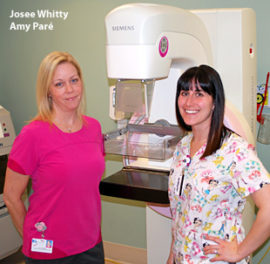 CCH Puts Mammography on the MAP
April 23, 2014
Cornwall Ontario – Cornwall Community Hospital (CCH) is mapping the way for healthy breasts.
Mammographic imaging services, housed within the sparkling confines of the new diagnostic imaging department, has once again been accredited by the Canadian Association of Radiologists (CAR) for its ability to meet the highest standards in image quality, staff qualifications, equipment performance, quality control and quality assurance.
The Mammography Accreditation Program (MAP) is an assessment that occurs once every three years and with it comes an increased demand in criteria. The digital mammography unit, headed up by Josee Whitty, Charge Technologist, and Amy Paré, Technologist, was primed to accept the designation.
"We were definitely confident we would receive the nod," said Whitty, the 10 year radiology/mammography veteran. "We adhere to the highest possible quality standards and wouldn't want to accept anything less."
Both technologists voluntarily submitted CCH's name as a health care facility wanting to be surveyed for this commendation.
"It's important that we attain this certification because it lets the community know we are doing everything we can to bring the finest health care options to them. It shows that we take pride and are working hard to achieve the best results," explained Paré.
"This was a huge undertaking, but we succeeded once again," said Jennifer Barkley, Director, Diagnostic Services. "It's a real feather in our cap to be listed with CAR as an accredited mammography site. It speaks to the qualified technologists, equipment standards, and radiologists who offer the community top notch exams and interpretations."
In order to be a part of the Ontario Breast Screening Program (OBSP), hospitals need to be accredited by CAR. Earning the accreditation, and future accreditations, requires staff members to receive continuing education, be certified in breast imaging by taking courses and performing at least 750 bilateral mammograms, write an exam, and to forward all the results to CAR for consideration.
Proving that mammographic images need to be picture perfect Paré explained that, "it's really an art form to get good images… if you miss even one millimetre of tissue you could miss a potentially harmful growth."
With the advancements in photographic technology, technologists are able to identify cancerous growths with much more clarity than in the past. Whitty and Paré both analogized the mammography unit's photos to that of a new digital camera versus and an older filmstrip model. The results are much sharper images, which are automatically uploaded to the department's computer system where they are meticulously analyzed by the experts at CCH.
Breast cancer is the most frequently diagnosed cancer for women in Ontario and can be nearly undetectable in some cases. That's why it is important for all women to have regular screenings with the best available technology, because finding cancers early means more treatment options and an improved chance of survival. It is recommended that all women aged 40 and over undergo a digital mammography test as the breast tissue becomes denser with age and the risk of cancer increases with each passing year.
Related Articles
About the Cornwall Community Hospital
The Cornwall Community Hospital is an acute care hospital with approximately 133 beds, and offering a full range of inpatient and ambulatory care services. In a typical year, the Hospital deals with over 52,000 visits to the emergency department, performs 9,000 surgeries and conducts over 200,000 diagnostic/therapeutic exams. The hospital is also a teaching hospital and is associated with the University of Ottawa medical program.
More information on the hospital and the redevelopment project can be found at www.CornwallHospital.ca.