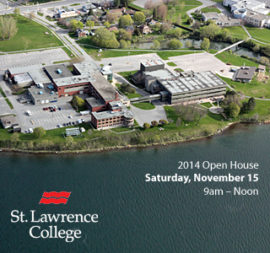 College Open House This Saturday November 15
November 12, 2014
Cornwall Ontario – Prospective students can come and learn about all that St. Lawrence College has to offer during Open House events at the Cornwall Campus on Saturday, November 15.
The Cornwall Campus is located in a picturesque waterfront setting along the banks of the St. Lawrence River. Recently extensively renovated, the Campus is also home to the world-renowned St. Lawrence River Institute of Environmental Sciences as well as Aultsville Theatre.
"The Open House is a perfect opportunity to tour our state-of-the-art learning facilities, modern residences, learn about our extensive campus life features, athletic opportunities, and so much more," said Don Fairweather, Dean of the Cornwall Campus.
Staff and students will be on hand to answer questions about the College's 85+ full-time programs, including numerous online learning opportunities.
St. Lawrence College is well-known for taking learning out of the classroom. In Cornwall, students interact and participate not only in the community, but also  with future partners upon graduation. Recently second year Paramedic students engaged in a Fire Extrication exercise with the Cornwall Fire Department. This experience provided them with firsthand knowledge of rescue simulations and real life emergency situations that they may encounter in their careers,
"Experiential learning opportunities such as these help our students become career-ready through teamwork while engaging with their community in a collective effort," said Glenn Vollebregt, President and CEO of St. Lawrence College.
St. Lawrence College also acts quickly to address emerging trends in the marketplace. Recently it launched a new supply chain program to address Cornwall's fast growing logistics sector.
Investing in education always pays off. According to a recent economic impact study conducted by Economic Modeling Specialist International (EMSI), for every dollar a student spends on their education at St. Lawrence College, they'll earn $4.40 in higher net earnings over the course of their working careers. For example, the average two-year diploma graduate from St. Lawrence will see an increase in net earnings of $13,500 each year compared to someone with a high school diploma or equivalent.
That's a pretty great return on investment, according to Vollebregt. "At St. Lawrence College, we put our students first, providing them with the best possible education for their chosen career path."
St. Lawrence College is one of the province's leading institutions with a graduate employment rate of 88.2 per cent. "These results are another indication that St. Lawrence students find success during their studies and after graduation," Vollebregt said.
Open House Details
Saturday, November 15, 2014
9am – noon
Cornwall campus – 2 St. Lawrence Drive
Registration is not required for this public event.
About St. Lawrence College
Located along the shores of the St. Lawrence River, SLC has three campuses in Brockville, Cornwall and Kingston. St. Lawrence College boasts 6,500 full-time students from Canada, and more than 40 countries worldwide. The SLC college community includes 20,000 part-time students, 1,000 staff, and more than 70,000 alumni. It also serves more than 3,000 Employment Services clients annually. The college has recently invested in the development of Applied Research and the revitalization of its campuses.
You can find out more information on the St. Lawrence College website:
St. Lawrence College is also featured in the new edition of Cornwall Living magazine. You can order your complimentary copy by clicking here.