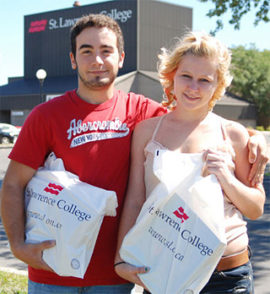 College Open House This Saturday November 16
November 14, 2013
Cornwall Ontario – Students looking to get a sneak peek at college life will have a chance this weekend at the St. Lawrence College Open House. The event takes place Saturday, November 16 from 9am to Noon.
Staff, students and faculty will be at the Cornwall campus, ready to discuss College programs and services, give tours of the campuses and residences, and answer questions.
"We encourage anyone who is interested in going to college to attend Open House and learn how St. Lawrence College can help them achieve the career of their dreams. It's a great opportunity for individuals to find the program that best fits their aspirations and discover the many services we offer to help our students achieve success," said Glenn Vollebregt, President and CEO of St. Lawrence College.
A New Look to Campus
The Cornwall campus of St. Lawrence College is ideally situated on the banks of the St. Lawrence River. The Campus itself recently benefited from a $14 million project that saw major physical improvements to campus labs, classrooms and amenities. The improvements include new paramedic, computer, chemistry and physics labs, a nursing simulation lab, new mechanical (HVAC) and electrical systems and a new student and customer service area.
A Popular Choice
Cornwall is a popular choice with a record 1255 full-time and 300 part-time students on campus this year. Approximately 20% of the students are from out of town, with over a dozen international students from 7 different countries.
The Cornwall campus offers a wide range of programming that includes programs in  Applied Arts, Business, Community Services, Computer and Engineering Technology, Healthy Sciences, Justice Studies and Skilled Trades and Apprenticeship.
"It is not just programming that is attracting new students," says Mr. Don Fairweather, Dean of St. Lawrence College.  "In this day and age, a post-secondary education which includes practical field experience makes you more attractive to employers."
New Supply Chain & Logistics Program
In January, the College will once again offer its 'fast track' Supply Chain & Logistics Techniques program. The 18-week program is comprised of 15 weeks of in-class instruction, followed by 3 weeks of field placement at some state-of-the-art distribution centres within Eastern Ontario.
The program was created in response to the need of local employers in the supply chain sector, such as Walmart Canada, Target, Shoppers Drug Mart, the Benson Organization, UAP, Richelieu Hosiery, Canlyte, and American Standard.
The Supply Chain and Logistics Techniques program looks to see students graduate with a skill-set that will make them attractive assets to companies within this fast-growing sector.
Registration is not required for this public event. Those who are unable to attend the Open House can take a virtual tour at virtualtour.stlawrencecollege.ca or can book a personal campus tour by calling St. Lawrence College: 1-800-463-0752.