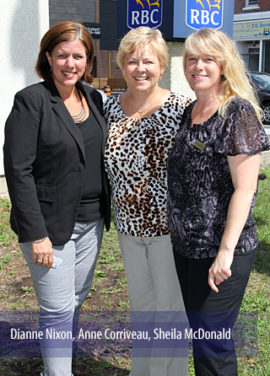 Community Connections Offers Info for Newcomers
August 29, 2016
Cornwall Ontario – Relocating to a new community can be a challenge. It's often even more challenging if you are new to Canada. How does one go about finding out what programs and services are available?
Fortunately, there is help – and it's closer than you might think.
Representatives from several local agencies are gathering under one roof for the first ever Community Connections event on Thursday, September 22 from 10:00 am until 1:00 pm at the Cornwall Civic Complex.
"It can be very challenging when newcomers try to navigate the various websites looking for employment resources or to find special program information," says Sheila McDonald, who is organizing the event on behalf of the Local Immigration Partnership Council. "We wanted to present a one-stop forum to introduce newcomers to the local contacts that can help them find the information and support they need to be successful and feel welcomed."
The event will feature short presentations from several local agencies and industry leaders, a lunch, and an opportunity for participants to mingle and network with presenters. There is no charge for the event and all are welcome.
"Attendees will have the chance to talk directly with key people, and that includes a number of local businesses that are equal opportunity employers," says Ms McDonald. "
The influx of newcomers to Cornwall has been a trend that the Local Immigration Partnership Council has been tracking for some time.  This has included young families and professionals moving to the area for work but also international students such as high school students participating in exchange programs; those coming to Cornwall to complete post-secondary education; and some coming to participate in special training opportunities. For example, St. Lawrence College is poised to welcome Mexican students this year and the NAV CENTRE is currently hosting Chinese student pilots.
Earlier this year, the City's Economic Development Department launched a new website aimed at providing information to new immigrants. The site can be found at immigrationcornwall.ca
Here is a partial list of the participating agencies in Community Connections event. More are expected to confirm over the next several days.
Clinique Juridique – SDG – Legal Clinic
Ministry of Advanced Education and Skills Development
Job Zone d'emploi
Social Development Council
Cornwall Business Enterprise Centre
St. Lawrence College Student Association
Conseil scolaire de district catholique de l'Est ontarien
Réseau de soutien à l'immigration francophone de l'Est de l'Ontario
TR Leger
RBC Royal Bank
Eastern Ontario Training Board
The City of Cornwall
Township of North Glengarry
Kensington Park Recruitment
Five Eastern Counties Local Immigration Partnership
ITS International Truckload Services
"We are pleased to support this event," says Dianne Nixon, Community Manager with the Royal Bank of Canada. "Diversity and inclusion allow us to tap into the intellectual capital of the entire community."
People looking to attend the Community Connections event are asked to contact Sheila McDonald at 613-930-2073 or sheila.mcdonald@rbc.com.
Categorised in: Community