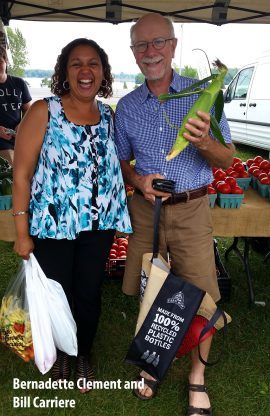 Community is (Re)discovering Local Food
August 11, 2016
Cornwall, Ontario – Residents of Cornwall, SDG and Prescott-Russell are invited to take on the challenge of eating from local food sources during August 12th to 28th.
By taking part of the 2nd annual Local Food Challenge, participants will be able to (re)discover the local food sources in their community, choose more local food, and share their local food experiences online for a chance to win prizes.
"We wanted to create some sort of campaign to help people understand and recognize where the local food sources are in the community," says Kat Rendek, Network Coordinator for All Things Food. "This is an awareness campaign that's meant to bring people together."
For those interested in the challenge but not sure where to start, there will be an information booth at the Cornwall's Farmers Market this Saturday, August 13th with registration information, presentations, recipes, and activities.
There is no cost to join the Local Food Challenge, however online registration is required at www.localfoochallenge.ca.  Once registered, participants will have access to a full list of local food products, events, and promotions happening in their community.
"This event is meant to be a fun yet competitive way for residents to explore their local food community and all that it has to offer," says Rendek.
The website also includes an online tracking tool, easy access to the Prescott & Russell, Stormont, Dundas & Glengarry Local Food Map, and tips and tricks for enjoying the season's harvest.
New this year, participants can celebrate the challenge with a grand finale at the Eastern Ontario Garlic Festival on Sunday, August 28th.  Now in its second year, the Festival features local garlic producers, farmers, artisans and community organizations.
The finale will include children's activities by Transition Cornwall +, a cooking demonstration featuring local food by Seaway Valley Community Health Centre, and the Local Food Challenge prize presentation.
All local food businesses, programs and event organizers who would like to participate in the campaign can still register as a "Partner" for no cost at www.localfoodchallenge.ca. Partnership details can be found online.
The Local Food Challenge was organized by members of the All Things Food Community Food Network, including the Eastern Ontario Health Unit, Kozroots Community Empowerment Projects, Centre de santé communautaire de l'Estrie, Seaway Valley Community Health Centre, the Eastern Ontario Agri-Food Network, and the Social Development Council of Cornwall and Area.
For more information about the Local Food Challenge, please visit the following websites:
Categorised in: Community