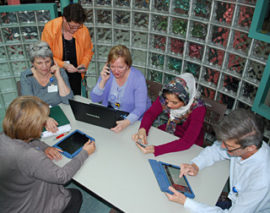 Connecting You To Care, No Strings Attached
March 5, 2014
Cornwall Ontario – With hundreds of newly installed Wi-Fi access points, Cornwall Community Hospital (CCH) has shown its commitment to continuous improvement through information technology (IT).
Through a partnership with Meru Networks®, CCH now offers one of the most sophisticated and powerful Wi-Fi systems permitting patients and staff to have the world literally at their fingertips.
The new system, dubbed the Uninterrupted Care Network (UCN), has enabled CCH to move towards the implementation of a fully-integrated clinical system, making patients' electronic health records accessible from any mobile device, anywhere, anytime, and is one of the key network components guaranteeing future success.
"This will be the foundational infrastructure we need to support and sustain our information management, information technology strategic plans," said Mario Alibrando, Director of IT."There is nothing more frustrating than going somewhere without Wi-Fi," said Mario Alibrando, Director of IT.
But this is no ordinary internet connection.
With more bandwidth and about 20 times the speed than what you would have in a local restaurant or café, Alibrando explained that this system was designed specifically to meet the needs of busy healthcare organizations.
"With this solution, we are able to keep medical devices, like IV pumps, on separate frequency channels, so the information is streamlined directly to the database. This will facilitate our initiatives moving forward," he added.
So far the feedback has been all positive.
"In any given day we average 200 people using it inside our walls with no hindrance to the user, either patient or staff," said Alibrando.
The system is also built with a secondary mainframe, so if for some reason the main system were to go offline, the back-up system would automatically detect it and turn itself on.
"Anytime you're dealing with any sort of critical electronics, having an extra level of preparedness and substructure is invaluable," said Alan Greig, VP of Support Services.
The UCN works so effectively because it allows the hospital to create separate Wi-Fi channel layers on a three-tiered system (life critical, mission critical, consumer critical). This enables CCH to offer the benefits of mobility for Wi-Fi enabled "Life Critical" devices, such as telemetry, and to help ensure dependable connectivity for those devices on their own unique radio frequency channel.
The first layer includes one set of wireless channels that are dedicated for life critical applications. It is designed not only to improve clinician productivity, but may also help the hospital in improving patient safety by ensuring no information is lost in cyber space.
Mission, or the second layer, is intended for the barcode medicine administration which will improve patient satisfaction.
The consumer layer enables patients to connect with friends and family using the internet. Such interactions have been proven to positively impact mood and recovery, thus improving patient satisfaction scores.
Gaining this new technology assures that Cornwall Community Hospital has the capacity to advance to stage six in the Healthcare Information and Management Systems Society's (an organization dedicated to improving healthcare quality, safety, cost-effectiveness, and access, through the best use of information technology and management systems) electronic medical records adoption model, which has only been achieved by a select few hospitals in the nation.
"We are excited about the strides being taken with accessible technology at CCH and this is only the tip of the iceberg for us. With many more strategies in place for the near future, the Uninterrupted Care Network is just one example of how we are living our vision of being a leader in all things health related," said Jeanette Despatie, CEO.