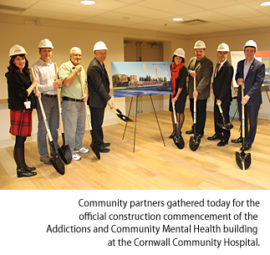 Construction of New Hospital Building set to Commence
October 9, 2015
Cornwall Ontario – Community partners, politicians, hospital staff, local contractors and foundation donors gathered today to mark a ceremonious occasion at the former ambulance site beside the Cornwall Community Hospital.
The official construction commencement of the Addictions and Community Mental Health co-location project was celebrated with a groundbreaking ceremony today which included a commemorative shovel entering the ground.
The new one-storey building will feature over 23,000 square feet and will be constructed by Bourgon Construction together with local sub trades. The building will be located on the site of the former ambulance building, at the North-West corner of the Hospital site.
Construction is expected to take approximately 12 months, with expected occupancy in the Fall of 2016.
There are seven services that will make the move to the new building. These services include: Addiction Services, Assertive Community Treatment Team, Adult Counselling Treatment Services, Children's Mental Health, Mental Health Crisis Team, Psychogeriatric Services and Community Withdrawal Management Services. These services currently operate on 3 different sites in leased spaces in the city of Cornwall.
CCH identified the need for a new service delivery model that addresses the concept of integration as a means of delivering coordinated, timely, efficient and client-focused services.
"Having all community based services under one roof will help with access and transfer from one program to another", explains Jeanette Despatie, President and CEO of Cornwall Community Hospital.
During this morning's ceremony, which fittingly took place at the end of Mental Illness Awareness Week, the Cornwall Service Club Council announced their $250,000 commitment to the project.
"We think mental illness; especially children's mental illness is an important, growing cause to support. We strongly believe in the well-being of children living in this community and we are proud that our council is working together locally to turn this vision into a reality," says Marvin Plumadore, Vice-President of the Cornwall Service Club Council.
About the Cornwall Community Hospital
The Cornwall Community Hospital is an acute care hospital with approximately 170 beds, and offering a full range of patient and ambulatory care services. In a typical year, the Hospital deals with over 52,000 visits to the emergency department, performs 9,000 surgeries and conducts over 200,000 diagnostic/therapeutic exams. The hospital is also a teaching hospital and is associated with the University of Ottawa medical program.
More information can be found at www.CornwallHospital.ca.