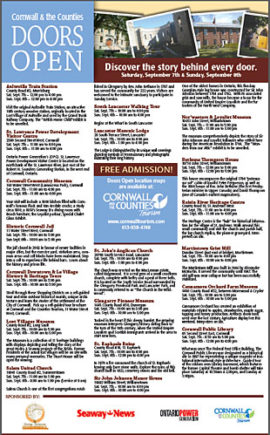 Cornwall and the Counties Opens Doors September 7-8
August 30, 2013
Cornwall Ontario – Doors Open is a unique opportunity to experience some of the Cornwall's coolest historical sites.
On September 7-8, Cornwall and the Counties open their doors to 19 historical sites for everyone to enjoy. Some of these sites are rarely available to the public, so its an unique chance to experience the region's expansive history, all for free!
Aultsville Train Station
St. Lawrence Power Development Visitor Centre
Cornwall Community Museum
Historic Cornwall Jail
Cornwall Downtown & Le Village History & Heritage Tours
Lost Villages Museum
Salem United Church
South Lancaster Walking Tour
Lancaster Masonic Lodge
St. John's Anglican Church
Glengarry Pioneer Museum
St. Raphels Ruins
Sir John Johnson Manor House
Nor'westers & Loyalist Museum
Bethune Thompson House
Raisin River Heritage Centre
Martintown Grist Mill
Cannamore Orchard Farm Museum
Cornwall Public Library
"Doors Open is a great opportunity for visitors to experience and truly appreciate Cornwall and the Counties' rich history," said Linda Wilson, Executive Director of Cornwall & The Counties Tourism. "Visitors should plan to spend the night and include our many great restaurants and shops to their stay."
Click here to view the Doors Open poster with dates and times and additional info.
About Doors Open
Doors Open is a province wide celebration of history and heritage that has been ongoing since 2002. From April through October, communities throughout the province "open the doors" to their many heritage sites, such as museums, churches and other historical sites for the public to experience. This weekend, September 8-9, its Cornwall and the Counties turn!