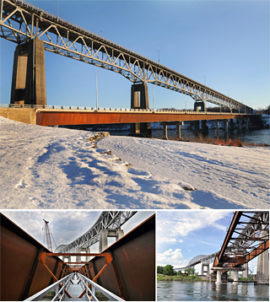 Cornwall Bridge to Open January 24
January 22, 2014
Cornwall Ontario – The Federal Bridge Corporation Limited (FBCL) announced today that the construction of the new low-level North Channel Bridge, The Seaway International Bridge Corporation (SIBC) Toll Plaza and the Canada Border Services Agency (CBSA) Plaza in Cornwall are now completed and will be open to bridge users on Friday January 24, 2014 at 7:00 a.m.
Mrs. Deborah Tropea, Vice-Chairperson of the FBCL Board and proud resident of Cornwall stated that "The Seaway International Bridge is a key economic link between Canada and the United States; the new North Channel Bridge will improve our community and contribute to the future economic growth of our region".
FBCL President and Chief Executive Officer Mrs. Micheline Dubé added that "The new bridge incorporates advanced technology in its design and construction. It is a tremendous project for the FBCL team to provide Cornwall, Akwesasne and surrounding communities a sustainable and effective Canada – United States link. Together with its business partner, the St. Lawrence Seaway Development Corporation, FBCL looks forward to a very bright future for this important international bridge crossing."
FBCL has been fortunate to work collaboratively with various partners, such SIBC, CBSA and Transport Canada to realize this project. It has also strongly benefited from the direct involvement of the Mohawk Council of Akwesasne, the City of Cornwall and highly skilled contractors and workers. The SIBC team will pursue their operational toll collection and maintenance programs in new, modern and efficient facilities benefitting all bridge users.
In 2010, the federal government announced the construction of the new North Channel Bridge through a $74.8M project planned in four phases. The historic high-level bridge, a 1962 structure, has reached the end of its useful life. With the first two phases now completed, the new crossing, toll plaza and temporary interim CBSA plaza are now ready for use.
Plans are for a smooth transition on opening day, with a simultaneous closure of the high-level structure. Security measures will be implemented in order to prevent any possible access to the high-level bridge until demolition begins.
The high-level bridge will be dismantled and as such Brookdale Avenue within the City of Cornwall will be realigned. As originally announced, the project completion is planned late 2016.
About the Seaway International Bridge
Plans for the construction of the Seaway International Bridge were initiated in 1957 and consisted in building an international toll bridge system between the City of Cornwall and Akwesasne in Ontario and Massena, New York with the South Channel Bridge (1958) located on the US side of Cornwall Island and the North Channel Bridge (1962) located on the Canadian side.
Today, the Seaway International Bridge is one of three Canada-USA border crossings in Eastern Ontario and handles over 120,000 commercial and 2,300,000 passenger transits annually.