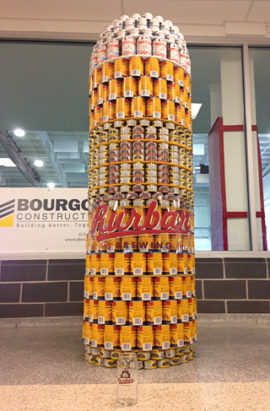 Cornwall Canstruction Amazes at the Benson Centre
April 16, 2016
Cornwall Ontario – The Benson Centre is home to a unique display of talent, but this time the action is in the main hallway, and does not involve sports.
Several amazing and rather large structures are on display – made out of cans of food. Its all part of Canstruction Cornwall – an event popular around the world, but being held in Cornwall for the first time ever.
"We're really excited to bring this international event to Cornwall," said Kendra Smith, Volunteer Coordinator of the Agapè Centre. "It's a fun way to raise some food for the shelves at the Agapè Centre, at a time of year when typically donations run low."
For several weeks, volunteer teams worked together to conceptualize their structures, the design of which were then reviewed by an engineer.  Teams arrived Friday night to begin building their cansculptures and worked hard to finish the job before the judging began on Saturday morning.
The cansculptures will be on public display for two weeks, beginning 8:00 a.m. on April 16 through to April 30.
"We hope everyone will visit the Benson Centre to see all the cansculptures and vote for their favorite," said Alyssa Blais, Executive Director for the Agapè Centre. "There is a quite a variety of ideas – and the cansculptures range in size, using anywhere from 1000 to 3000 cans per sculpture.
Six teams were able to complete the challenge:
Professional Engineers Ontario
Rotary Interact Club
Agapè Centre
WSP/Architecture49 Inc.
Kinsmen Cornwall
Bourgon Construction
"It's very interesting to see people's reactions to the cansculptures," notes Ms. Blais. "Some details are not immediately obvious, but people clearly love the creativity."
Teams contend for a title in five categories: Structural Ingenuity, Best Meal, Best Use of Labels, Jurors Favorite, and People's Choice. The winners locally will move on to an international competition.
In addition to donations, raffle ticket sales, the Agapè Centre has the added bonus of adding the cans to its food bank at the conclusion of the exhibition at the end of the month.
Community partners include Seaway Express, Baxtrom's Your Independent Grocer, National Grocer, and No Frills.
About Canstruction
Canstruction is a unique charity which hosts competitions, exhibitions and events showcasing colossal structures made out of full cans of food. After the structures are built, the cansculptures go on display to the public as a giant art exhibition. At the end of the event, all food is donated to local hunger relief organizations.
Recognized for its commitment to innovation, hunger relief  and collaboration, Canstruction has helped raise nearly 40 million pounds of food since 1992.  Canstruction events are hosted in over 150 cities around the world including North America, Australia, South America, Europe and Asia. More information can be found here:
Categorised in: Community