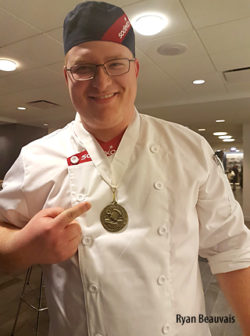 Cornwall Chef Wins Americas Copper Skillet
March 1, 2018
Cornwall Ontario – NAV CENTRE's Ryan Beauvais has won the Copper Skillet culinary competition in Chicago.
Chef Beauvais won the Junior Cook-Off at the Americas competition. He will go on to compete against the winners of the Europe and Australia Asia Pacific chapters at the competition final which takes place in April in Philadelphia.
"I am very excited with the results and grateful for the opportunity to compete against some very talented chefs," said Mr. Beauvais.
Mr. Beauvais won the competition with a pan-seared pork loin with a mushroom cream sauce, paired with potato hash, butter poached schrimp and a tasty herb salad.
The chefs were presented with basic pantry items along with a "mystery basket" of proteins and other fresh, dairy and grocery items. They were given 30-minutes to prepare, create, and present their creations to the judges.
Judges were heard to remark that Mr. Beauvais' pork was the best dish in the entire competition.
Mr. Beauvais was coached in the competition by NAV CENTRE's Executive Chef Luc McCabe.
"I could not be happier for Ryan right now," said Chef Luc McCabe. "He showed true passion and determination and worked extremely hard to prepare for this event."
"Ryan is a creative chef who can really bring his A game under pressure," added Chef McCabe. "I look forward to seeing him take on the world in Philadelphia."
To get to Chicago, Mr. Beauvais first bested chefs from across Canada at the Canadian Copper Skillet competition in Toronto in November.
The Copper Skillet is presented by the International Association of Conference Centres (IACC).
"The Copper Skillet competition is important opportunity for us to celebrate the exceptional culinary expertise in the conference and meetings arena across the globe,"  said IACC's CEO, Mark Cooper.
The Copper Skillet competition was introduced in 2004 to highlight the artistry and skill of the best chefs from IACC-member conference venues around the world and give recognition to their contributions to the shared goal of providing an outstanding conference venue experience.
You can regularly experience the workd of Chefs Beauvais and McCabe at the NAV CENTRE, Eastern Ontario's largest conference centre. The NAV CENTRE features the Propeller Restaurant and Jet Set Pub, along with a fitness centre and spa. The facility is located just steps from the celebrated Waterfront Trail which runs along the St. Lawrence River.
For more information on the NAV Centre, please visit www.navcentre.ca.
Categorised in: Community