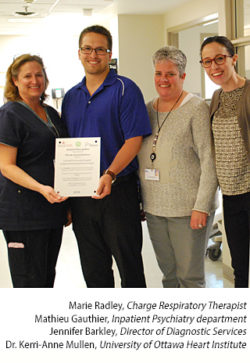 Cornwall Community Hospital Celebrates Smoking Cessation Program Success
May 1, 2018
Cornwall Ontario – Cornwall Community Hospital is celebrating ten years of partnership with the Ottawa Heart Institute's Ottawa Model for Smoking Cessation (OMSC).
Since the implementation of the OMSC at Cornwall Community Hospital, an impressive 6000 smokers have been reached through personalized, best practice tobacco dependence treatment, resulting in increased quit attempts and long-term cessation. An estimated 2000 smokers are smoke-free as a result of the support they received while at Cornwall Community Hospital.
In 2002, smoking cessation experts at the University of Ottawa Heart Institute developed the Ottawa Model for Smoking Cessation–an institutional program that systematically identifies, provides treatment, and offers follow-up to patients who smoke as part of routine care. In 2006, UOHI began to assist other inpatient, outpatient and primary care settings to implement the OMSC.
Implementation of the OMSC led to an absolute 11% increase in long-term quit rates among hospitalized patients (from 18% to 29% at 6 months). In Eastern Ontario, nearly 100,000 smokers have been assisted through Ottawa Model programs, leading to approximately 25,000 people becoming smoke-free.
"We understand being admitted to the hospital can be a challenging time for our patients, and even more difficult for those addicted to cigarettes. Offering the Ottawa Model to support smokers while they are at the hospital with us, is another way we are providing exceptional care," says Heather Arthur, VP Patient Services and Chief Nursing Officer. "If our team can help them get started by managing nicotine withdrawal while still admitted, the patient may have the tools and motivation to quit smoking for good."
"The success behind the Ottawa Model for Smoking cessation is truly found in the determined teams across Canada, like here in Cornwall, that are providing personalized support to smokers who are trying to quit," said Dr. Andrew Pipe, co-developer of the OMSC and Canada's foremost expert on smoking cessation. "As all hospital grounds in Ontario are now smoke-free as of January 2018, helping patients deal with nicotine withdrawal when they are admitted and stay smoke-free when they leave remains an important priority for hospitals in our region."
About Cornwall Community Hospital
With the completion of a major redevelopment project at Cornwall Community Hospital in 2014, and the construction the Addiction and Mental Health Centre at the end of 2016, the hospital consolidated all acute care and community based services on their McConnell Avenue site. Having everything on one campus positions the hospital well to serve its community for many years to come.
Categorised in: Community