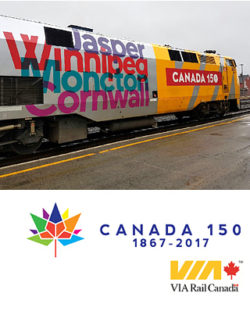 Cornwall Featured on VIA Rail Canada 150 Trains
March 28, 2017
Cornwall Ontario – Cornwall is getting a little bit of name recognition this year, thanks to VIA Rail.
Cornwall appears along with other prominent Canadian cities on selected train engines and passenger cars. Its all part of VIA Rail's Canada 150 celebrations.
"The trains look great and are very popular with passengers," says Ken Brunet, Senior Counter Sales Agent with VIA Rail. "It's nice to see that Cornwall was included in the list of great Canadian cities."
VIA Rail has wrapped a portion of its fleet in the Canada 150 colours.  The exteriors of 22 locomotives, 18 passenger cars and the Glenfraser lounge car are decorated with the names of some of the cities served by the national passenger rail service. VIA Rail has also hung posters and banners in its stations, inviting travellers to join in the festivities. The campaign is designed to encourage people to travel by train to attend Canada 150 events or, quite simply, to discover the beauty of Canada.
"Canada's 150th birthday is an opportunity to pay tribute to and celebrate our immense country, its heritage, the diversity of its inhabitants, and its quality of life," says Yves Desjardins-Siciliano, President and Chief Executive Officer at VIA Rail. "Connecting more than 400 communities together from coast to coast for almost 40 years, VIA Rail invites all aboard for the celebrations!"
"The train is Canada's best window."
Canada 150 and Cornwall
The year 2017 marks 150 years since 1867 – the year of Confederation – and a number of events are planned to celebrate Canada's Sesquicentennial Birthday.
Cornwall itself was founded in 1784, which makes it one of the oldest communities in Ontario. Cornwall will be hosting a variety of special events throughout the year to celebrate, including an extra special Canada Day festival in Lamoureux Park on July 1st.
Via Rail in Cornwall
Cornwall is serviced by five trains that connect Cornwall to Toronto and other Ontario communities to the west, as well as five trains that connect Cornwall to Montreal and points east. The Via Rail station is located at 1650 Station Road, just east of Pitt Street.

About VIA Rail Canada
As Canada's national rail passenger service, VIA Rail and its 2,600 employees are mandated to provide safe, efficient and economical passenger transportation service, in both official languages of our country. VIA Rail operates intercity, regional and transcontinental trains linking over 400 communities across Canada, and safely transports nearly four million passengers annually. The Corporation was awarded seven Safety Awards by the Railway Association of Canada over the last eight years.
For more information, visit: www.viarail.ca
Categorised in: Community