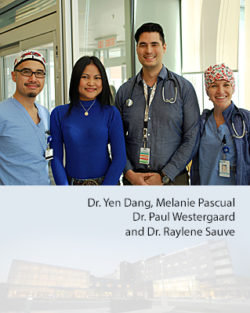 Cornwall Hospital First in Canada to Perform Complicated Procedure
March 22, 2018
Cornwall Ontario – Collaboration at its best!
From diagnosis to treatment, a full service community hospital requires professionals, including physicians from multiple specialties and departments, to collaborate. In Melanie Pascual's case, this collaboration ended up being lifesaving.
Melanie Pascual, a 26 year old registered nurse, came to Canada from the Philippines in 2015, to be a live-in caregiver. This was an opportunity to be reunited with her sister, Laila, who had also come to Canada for work in 2010. The thought of seeing snow for the first time was exciting and something she was looking forward to. Because of the nature of her work, Melanie was ignoring symptoms like headaches, heart palpitations, insomnia and swelling in the face as well as additional facial hair growth.
After presenting in the Emergency Department at CCH, she had a follow up appointment with Dr. Paul Westergaard, a local internist.
"When I saw Melanie in my office, her blood pressure was 240/110 which is very dangerous; if left untreated this can cause a rupture or tearing of blood vessels, particularly in the brain or chest. I called an ambulance for her directly from my office."
Melanie had agreed to be transported to Cornwall Hospital by ambulance, with some convincing from her sister. In the Emergency Department, Dr. Lemire was able to lower her dangerously high blood pressure with multiple medications. She then consulted Dr. Arab, the intensivist on call, for further investigation and admission to the Critical Care Unit (CCU).
After an ultrasound, blood work, CT and MRI scan, it was determined that Melanie had Cushing's syndrome. This is a rare condition that causes elevated levels of the hormone called cortisol due to a tumour on the adrenal gland. After 6 weeks of medication to lower her blood pressure and cortisol levels, Melanie was ready for surgery to have the tumour removed.
Using his advanced laparoscopic surgery training, Dr. Dang, a general surgeon at Cornwall Hospital, was brought in to review the case and perform the surgical removal of the tumour. Specialized infrared operating cameras were provided by Stryker Canada to utilize a cutting edge technique of intraoperative fluorescein. The Pharmacy department sourced the required dye and ensured it was on site, enabling visualization of the tumours blood vessels once injected.
"While resection of adrenal tumours was part of my fellowship training in Vancouver, the use of Indocyanine (Green dye) was a first for me. For a part of the operation, we switched the camera to "night vision mode" and this dye lit up the main blood vessels feeding the tumour, making its identification, and ultimately control, much safer. According to our Stryker representative, this was the first time this technique had been used in Canada for this type of surgery, and we are proud that it was possible here," explains Dr. Dang.
Dr. Raylene Sauve, anesthetist on the case also had to be well prepared.
"Rapid blood pressure changes during the operation can make things complicated and dangerous," she explained, but she was prepared with a plan for every possible complication.
The surgery was successful and Melanie is on the road to recovery with follow up appointments with Dr. Westergaard and Dr. Heidi Dutton, an endocrinologist in Ottawa.
"Even though we are physically far away from home, we did not feel like it because we were so well taken care of, with everyone showing genuine concern and compassion towards our situation" expressed Melanie.
"We are so glad Melanie's doing better and proud to be part of a hospital that can provide this level of specialized care. It's a sign of great things happening here in Cornwall," says Dr. Dang.
About the Cornwall Community Hospital
The Cornwall Community Hospital is an acute care hospital with approximately 170 beds, and offering a full range of patient and ambulatory care services. In a typical year, the Hospital deals with over 52,000 visits to the emergency department, performs 9,000 surgeries and conducts over 200,000 diagnostic/therapeutic exams. The hospital is also a teaching hospital and is associated with the University of Ottawa medical program.
More information can be found at www.CornwallHospital.ca.
Categorised in: Community