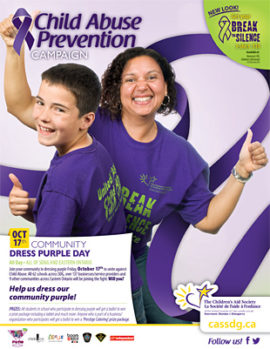 Cornwall Leading The Way Again With Wear Purple Campaign
October 14, 2014
Cornwall Ontario – October is the time of year that the Children's Aid Societies across Ontario work to raise awareness on child abuse and related prevention strategies.
It is also the time of year that folks at Stormont, Dundas & Glengarry Children's Aid Society roll up their sleeves to increase awareness for the campaign.
Dress Purple Day – Oct. 17
One of the more popular events this month will be Community Dress Purple Day on Friday October 17. People throughout the community are invited to wear purple to show their support for the cause.
To help those who may be wardrobe-challenged, special "Break the Silence" purple T-shirts are readily availabe in both adult and youth sizes.
"Wearing a t-shirt may seem like a simple thing to do, but it is a visible sign of support for the idea that everybody should feel safe in their community," says Kimly Thivierge, Public Relations Manager for the Children's Aid Society of S,D&G.  "It is a powerful and welcome message to anybody that may have been affected by abuse."
Ms. Thivierge and her team created the concept 4 years ago with 8 schools and a handful of businesses. Each year the event has grown, and last year other communities in Eastern Ontario joined in. This year, 61 local schools and over 150 businesses and organizations are participating and 9 other communities in Eastern Ontario will also wear purple.
"We are excited that our Community Dress Purple day is spreading out throughout the region," says Ms. Thivierge.  "It means our message will meet more people and we will have a better chance to end the cycyle of abuse."
Get Your Very Own T-Shirt
Over 10,000 Break the Silence t-shirts are expected to be worn across Ontario this Friday. You can pick up yours in Cornwall at Baxtrom's YIG and CAS -or order online at www.cassdg.ca. Shirts are only $10 and are available in youth and adult sizes, in both English and French. All proceeds go toward sending kids/youth to camp by supporting the Community Kids Camp Fund.
The Child Abuse Prevention Campaign wraps up October 29th with a Kids and Youth Dinner of the Arts fundraising event at the Au Vieux Duluth restaurant on Brookdale Avenue.  People can choose 1 of 3 meals and eat free by simply leaving a donation before leaving. Community youth will serve and entertain guests while they dine.  The event takes place from 11am to 8:30pm.
About the Children's Aid Society of Stormont, Dundas & Glengarry
The Children's Aid Society of Stormont, Dundas & Glengarry was formed in 1908 to protect children from abuse and neglect, while supporting the safe and healthy development of children in their families and community. You can learn more on the CAS online: