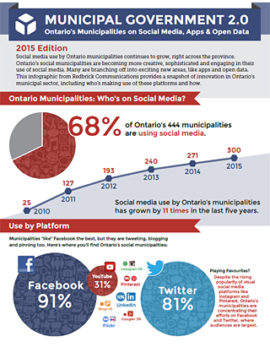 Cornwall One of the Most Liked Municipalities on Social Media
August 19, 2015
Cornwall Ontario – A new survey taps Cornwall as being one of the "most liked" municipalities on social media.
The survey by Redbrick Communications seeks to measure social media use by Ontario municipalities, and the company states that the practice is growing right across the province.
"Ontario's social municipalities are becoming more creative, sophisticated and engaging in their use of social media," says Brian Lambie, President of Redbrick Communications. "Many are branching into exciting new areas, like apps and open data."
Redbrick looked at social media use by all 444 municipalities in Ontario duiring the period between April 2010 and July 2015.
The researchers found that 300 cities and towns are using social media and the use of this new communication tool has grown by 11 times in the last five years. Most of the activity is concentrated on Facebook and Twitter, where audiences are the largest.
The City of Cornwall maintains the following major Facebook and Twitter accounts:
Facebook:
Twitter:
YouTube:
In addition to the above, the Cornwall Police Service and local groups such as the Cornwall and the Counties Tourism and the Chamber of Commerce can also be found online.
Mobile App
Redbrick also found that 20% of Ontario's municipalities have made it easier for their residents to stay informed and engaged at the touch of their fingertips through mobile apps. The City of Cornwall makes a variety of information available via its Pingstreet app. You can learn how to download the Pingstreet app to your smartphone or tablet by clicking here.
The overwhelming number of Ontario municipalities provide easy links to and from their social media accounts, apps and website.
"All of our platforms work together to ensure people can find the information they are looking for as quickly as possible," says Kevin Lajoie, Public Information Co-ordinator for the City of Cornwall. "We continually bring forward new tools such as mapping and online surveys to increase engagement with the public."
Redbrick Communications has created and infographic to provide a snapshot how Ontario's municipalities are using these tools. You can view it by clicking on the following link: