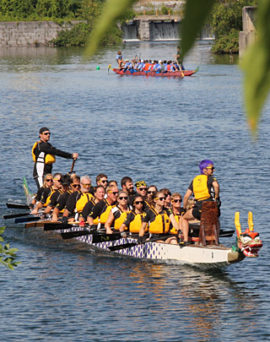 Cornwall WaterFest Promises Fun-filled Weekend
August 14, 2013
Cornwall Ontario – Look to the water this weekend for fun, game and a little bit of culture.
Cornwall WaterFest will take place on Saturday August 17th and Sunday August 18th with a jam-packed schedule featuring dragon boat races, a strongman competition, an art exhibit, live music and much more.
"There is something for everyone said," said event chair Johanna Murray.
Due to ongoing construction on Cornwall's new bridge, Waterfest has shifted west  to the Old Cornwall Canal at Lock 19, (Second Street West and Power Dam Drive, near the Soccer Fields). Organizers are encouraging people to bring blankets, chairs and and spend the day by the beautiful river. To assist spectators in getting to the site, Cornwall Transit will be modifying its Riverdale route all day Saturday to add stops in the area of Haulage Road.
"We want to help people access this great community festival," said Transit Division Manager Len Tapp.
The weekend starts off Saturday at 9 am, with the ever popular dragon boat races and strongman competitions.  The dragon boat races are a popular spectator event, drawing hundreds to cheer on the colourful 40 foot boats, powered by 20 paddlers.
Sunday's main events include the Water Run and the Walk for Heart. A full schedule of festival events appears below.
Artfest and Waterfest Stage
While water-based events take place over the weekend, land-based people will be able to sample local culture on both days.
The Artfest market makes a return this year to the festival with 40 local artists and artisans exhibiting their hand-made creations.
"There's a little bit of everything again this year," said Kate Dwyer, Artfest coordinator, "Painters, recyclers, jewelers, stained glass, vinyl work, driftwood art – a good broad selection. I think we're going to have a great turn out."
New this year, the Waterfest Stage will feature a great line-up of local musical entertainment.
Water Run
People looking for an unique physical challenge this summer should sign up for the Cornwall WaterFest Water Run. The 7 km run that will take participants in and around the Cornwall Canal and Guindon Park in Cornwall's west end. The run consists of trail running in addition to 5 water crossings. The course also includes some short, steep hills. Participants can register in advance at the Heart and Stroke Foundation office or on the day of the race itself.
Walk for the Heart
Walk for Heart will take place on Sunday, and offers 1km, 2km and 5km options. The walk will take place along the Old Cornwall Canal on the bike path. Participants will have the opportunity to plant a heart sign with the name and a message anywhere along the path.
Throughout the weekend, there will also be a number of demonstrations including kayaking, Hula hoop demos, dance, Tai Chi, drumming, and a cooking demo from the Dairy Farmers. There will also be food vendors on site.
Cornwall Waterfest 2013 Schedule
Saturday, August 17th
Strongman Competition – 9 am
Dragon Boat Races – 9:25am to mid afternoon
Art Fest – 10 am
Dragon Egg Drop – 4 pm (immediately after final race)
Waterfest Stage – 11am – 8pm

11am to 1pm – Youth Open-Mic Showcase
1pm – Keegan Larose
2pm – Chris Benton
3pm – Stephanie Coleman
4pm – Ryan O'Neil and Amanda Leger
5pm – Roxanne Delage and Marc Carriere
6pm – Tracy Lalonde
7pm – The Normans (Jamie Heath and Chuck Leclair)
Sunday, August 18th
Art Fest – 10 am
Water Run – 10 am
Walk For Heart – 12 pm
Waterfest Stage 10 am – 4 pm

10 am – Candy Provost and Tammy McCrae will lead a mass audience singing of Hallelujah and Amazing Grace
11 am – Peter John Fortin, with a live paining during his performance by daughter Laura Leah Fortin
Children's performer and story teller, Pat Jamieson
1pm to 4pm – All-ages acoustic open mic showcase, including six local churches performing their favourite spirituals.
It's all for a great cause! Funds raised from WaterFest go to the local office of the Heart & Stroke Foundation to further work on heart and stroke research, health promotion and education.
For further information or to register for any of the events, visit www.cornwallwaterfest.com or contact the Heart and Stroke Foundation office at 613-938-8933.