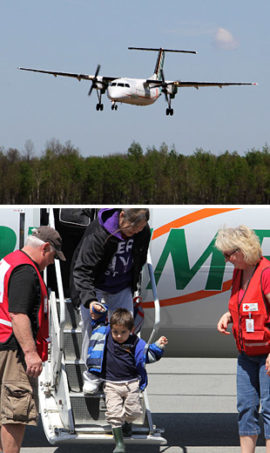 Cornwall Welcomes Kashechewan Evacuees
May 5, 2013
Cornwall Ontario – The City of Cornwall will be hosting as many as 350 residents from the northern Ontario community of Kashechewan who are being evacuated due to flooding concerns.
The displaced residents will begin arriving at the Cornwall Regional Airport this afternoon (Sunday May 5), with the first flight scheduled to arrive at 1:30 pm.  Additional flights will continue through the afternoon and evening hours. From there, they will be transported to the NAV CENTRE on Montreal Road where they will be housed and provided meals for the duration of their stay.
Emergency Management Ontario (EMO) is currently working with a number of northern Ontario communities that are facing flooding challenges as a result of rapid snow melt and rainfall. In response to the flooding concerns, the communities involved and EMO are making plans to evacuate citizens.
The first evacuees to arrive in Cornwall will include the elderly, expecting mothers, young children and their guardians and individuals with pre-existing medical conditions.
At approximately 10 am on Sunday May 5, Mayor Bob Kilger declared a state of emergency for the City of Cornwall to serve as a host community for the evacuees.  As per the City's Emergency Plan and protocol, officials from a variety of City departments have gathered to coordinate the logistics of this situation, along with officials from Emergency Management Ontario.  There is no expected direct impact to the residents of Cornwall as a result of this emergency.
"We are pleased to be able to assist the residents of Kashechewan during their time of need," said Mayor Kilger. "We want to make these people feel as welcome and as comfortable as possible during this difficult period."
The City of Cornwall will be entering into an agreement with Aboriginal Affairs & Northern Development Canada (AANDC) for full cost recovery for the event. AANDC will be deploying a representative to Cornwall to assist with expenditure approvals and to work with the City and the Kashechewan residents.
It is unknown at this time exactly how long the Kashechewan residents will be staying in Cornwall.
"We did host Kashechewan evacuees on a previous occasion in 2005, and we have the capacity and logistics to handle this event," said Kim Coe-Turner, NAV CENTRE General Manager.
The displaced Kashechewan residents will be received at the Cornwall Regional Airport and transported via motor coach to the NAV CENTRE. The Red Cross will be on hand to assist with this effort.  St. John's Ambulance and the Salvation Army have been also been placed on alert in the event their assistance is required.
At this time there is no need for community donations or volunteers. However if it is determined that there is a need, those details will be provided as soon as possible.
Additional updates will be provided as new information becomes available.
About Kashechewan
The Kashechewan First Nation is a Cree First Nation located near James Bay in Northern Ontario, Canada. The community is located on the northern shore of the Albany River.
About Cornwall Regional Airport (YCC)
Cornwall Regional Airport is located 7 NM (13 km; 8.1 mi) east-northeast of Cornwall.  The airport has a 3,510 ft × 100 ft (1,070 m × 30 m) paved runway oriented east-west. The airport is classified as an airport of entry by NAV CANADA.
About NAV CENTRE
Located on the shores of the St. Lawrence River in Cornwall, the NAV CENTRE is a full service conference centre with 551 guest rooms, a full service restaurant and fitness centre.