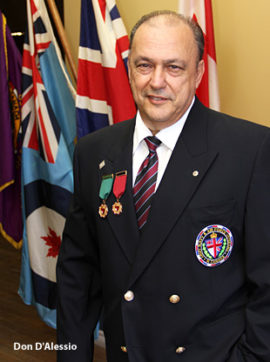 Cornwall's ANAF Club to Welcome 250 Delegates
September 27, 2013
Cornwall Ontario – Over 250 out of town guests are being welcomed by Cornwall's Army, Navy & Air Force Veterans In Canada Unit 342 club this October 4-5.
Delegates will be in town to participate in the election convention of the Ontario Command board.
Delegates and guests will begin arriving in town on Friday where they will renew acquaintances at the Club on Marlborough Street. The official business of the Convention gets underway the next morning at the Ramada Inn and Conference Centre, where delegates will elect a new slate of officers to the Provincial Command.
Following the meetings, a tour has been arranged of the St. Lawrence Power Visitor Centre. Dinner and dancing featuring the Butler band will be held Saturday evening at the Club.
"This is an important convention as the provincial election only takes place every second year," said Mr. Don D'Alessio, President of the Cornwall Unit 342. "We are happy to be welcoming our colleagues from units across Ontario, many of whom we know and look forward to seeing again."
The Club is undergoing a number of renovations this month in preparation for the Convention, which Cornwall bid for and won last year.
"The timing was right to improve some areas of the club," said Mr. D'Alessio. "We want to continue to provide a top-notch place for people to meet and enjoy each other's company.Our goal was to provide the people of Cornwall with an excellent location to hold their special events,  Already we have seen an increase in hall rentals for stag parties, weddings and other various events."
It is the company of Unit members that seems to be having the most impact on membership. The club has seen a 40% increase in memberships to the current level of about 250.
"We have welcomed a lot of new people to the club, and many are people new to Cornwall," said Mr. D'Alessio. "It's really nice to see and I think the friendliness of our members are a big reason."
About ANAF Cornwall – Unit 342
The Army, Navy & Air Force Club has been in Cornwall for over 50 years. It has been located at its current location at 14 Marlborough Street North for over 25 years. The Club organizers a number of events throughout the year for members and the public, including a very popular Wing Night (Wednesdays), Saturday dinner with live music, dart, pool and other activities. The Club has three meeting halls that can be rented for special events, and has a good relationship with the St. Lawrence Seniors Club which regularly holds bingo and euchre events. Unit 342 has a long history of giving  back to the community, supporting numerous charities and good causes.  You can learn more about the Club and how to join by simply dropping by the clubhouse or calling (613) 938-5020.
About Army, Navy, & Air Force Veterans  in Canada (ANAVETS) 
The Army, Navy & Air Force Veterans in Canada is Canada's oldest veterans' association that can trace it roots back to the 18th century when remnants of British and French colonial regiments banded together to exchange information on service benefits available to them and to fraternize. Following the War of 1812 sailors from the British Navy who remained in Canada joined, adding a naval component to the association. During and following the Second World War, members of the Air Force were welcomed as members and the official title the "The Army, Navy & Air Force Veterans in Canada" was adopted. The Association uses the short form ANAVETS to identify itself. ANAVETS is comprised of a Dominion Command, seven provincial commands and dozens of units. . Ladies' Auxiliaries may be found at some units.