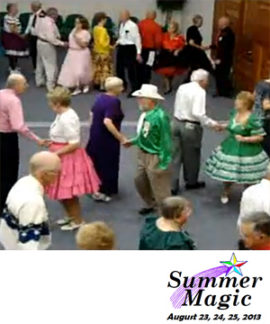 Cornwall's NAV CENTRE welcomes 500 Square Dancers
August 20, 2013
Cornwall Ontario – Over 500 square dancers will be arriving in Cornwall later this week to participate in the Summer Magic 2013 Square Dancing Weekend.
The three-day convention kicks off on Friday, August 23 at the NAV CENTRE, and it will include participants from five Canadian Provinces as well as the United States. This year marks the fifth time that the convention has been held in Cornwall.
"The NAV CENTRE is a great facility for an event like this," said event organizer Don Moger. "Everybody stays here and love the fact that everything is under one roof. That's why they travel from so far to participate."
The event will feature six different levels of dancing lead by instructors from California, Texas, Arizona and other parts of the United States.
Summer Magic is one of the largest square-dancing events held in Canada.
"It's good mental and physical activity and fun as well," said Mr. Moger. "We use modern music and many new modern figures that the dancers enjoy. Its come along way from the old days of square dancing."
A square dance is a dance for four couples (eight dancers) arranged in a square, with one couple on each side, facing the middle of the square. The various square dance movements are based on the steps and figures used in traditional folk dances and social dances from many countries. Square dancing continues to be enjoyed by people around the world.
"We are pleased to welcome the Summer Magic participants to Cornwall," said Mayor Bob Kilger. "We hope everybody will take some time to explore our great city and discover all of the great things we have to offer."
No public performances are planned during the convention. For those interested in learning more about square dancing and how they may participate in future events, please visit the website of the Cornwall Swinging B's or contact Roger Frappier at (613) 932-5582.
About the NAV CENTRE
One of eastern Ontario's largest conference centres, the NAV CENTRE features 50,000 square feet of meeting space, 70 state-of-the-art meeting rooms, 560 guest rooms, a 25-metre indoor pool and fitness centre, and numerous other amenities.