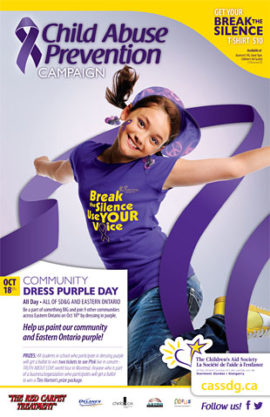 Cornwall's Purple Wave Spreading Across The Region
October 10, 2013
Cornwall Ontario – You may have seen the purple ribbons start to appear around town this month. October is the time of year that the Children's Aid Societies across Ontario work to raise awareness on child abuse and related prevention strategies.
Four years ago the folks at Stormont, Dundas & Glengarry Children's Aid Society met to brainstorm a way to increase awareness for this campaign. It was noted that the ribbons were not always visible, and thus an idea was born: the Community Dress Purple Day.
The concept was pretty simple. On one day, smack dab in the middle of the month, people would be encouraged to wear purple to Break the Silence and Unite against Child Abuse.  A Friday was chosen, as many companies/organizations have 'dress down' policies in effect.
"The response from the community was terrific," says Kimly Thivierge, Public Relations Manager for the Children's Aid Society of S,D&G. "Our team would go out and take photos of the different groups in purple and found the community energy to be contagious. It snowballed from there and has grown every year since."
The event is now an anticipated event in the community. Ms. Thivierge and her team started out with 17 schools and a handful of businesses four years ago and last year saw 49 schools and more than 60 businesses and organizations take part. In preparation for this year's Dress Purple Day on Friday, October 18th , 58 schools are actively participating and the team is working to meet their goal of 100+ businesses/organizations.
"One of my goals in running this campaign was always to have other communities in Eastern Ontario join us and unite across jurisdictional boundaries," says Ms. Thivierge. "The response has been amazing. Everyone we reached out to loved the idea and 9 other Children's Aid Societies and their communities have agreed to participate in this event.   Many want to adopt this as their yearly awareness event!"
The growing support for Dress Purple day has been noted in the communications newsletter that goes out to all CASs across Ontario and Ms. Thivierge was asked to speak about this initiative at a Toronto ministry CAS communication's meeting.
"It is my hope that this will soon become a provincial event across all of Ontario," said  Ms. Thivierge. "We want to paint Ontario purple, and have people unite against child abuse in order to keep kids/youth safe!"
If you do not have any purple in your closet, Ms. Thivierge has arranged for a solution. Dress Purple shirts are available featuring the slogan Break the Silence, Use your Voice at Baxtrom's YIG, Giant Tiger and CAS. Shirts are only $10 and are available in youth and adult sizes, in both English and French.  You can also order online at www.cassdg.ca.  All proceeds go toward sending kids/youth to camp by supporting the Community Kids Camp Fund.
The Child Abuse Prevention Campaign wraps up October 29th with a Kids and Youth Dinner of the Artsfundraising event at the Au Vieux Duluth restaurant on Brookdale Avenue.
"Our goal is to help children and youth discover their WOW moment" says Ms. Thivierge.  They can do this by registering for the open mic showcase and/or by submitting an art masterpiece for the silent art auction table.  For kids who are too shy to perform, they can choose to register as food servers for the event.  Something for everyone and everyone eats FREE.  Simply leave a donation of your choice."
About the Children's Aid Society of Stormont, Dundas & Glengarry
The Children's Aid Society of Stormont, Dundas & Glengarry was formed in 1908 to protect children from abuse and neglect, while supporting the safe and healthy development of children in their families and community.
You can learn more on the CAS website at www.cassdg.ca