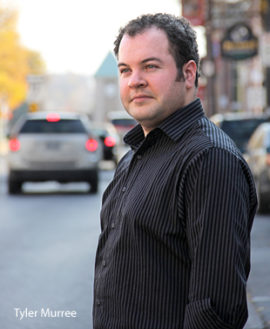 Cornwall's Tyler Murree in the Spotlight Again
June 7, 2013
Cornwall Ontario – People in Cornwall opened the Standard-Freeholder this week to see a familiar face. It was a hometown actor who has gone on to achieve success under the bright lights. No, it wasn't Ryan Gosling, but rather Tyler Murree, once again using his expressive face to portray complex emotions in an advertisement for Ontario Savings Bonds.
Starring in a major print ad campaign may be something new for the accomplished actor, but Tyler has never shied away from new experiences.
His first foray into acting was in a high school production of Godspell when he got the acting bug.  He started to seriously consider acting as a career, and began to take on roles in community theatre. It was also something new for the Murree clan, which had no previous pedigree of acting or performing arts in the family.
"I do come from a family of mostly extroverts and my father and sisters can deliver a joke with the best of them, says Tyler. "But as far as the performing arts go – I'm the only one."
Tyler would go on to study drama at the Queen's University and would play leads in over a dozen productions over the next 4 years.  He moved to Toronto and was an understudy at The Second City before landing a role on stage at the Elgin Theatre in a production starring Brett "The Hitman" Hart.
After a stint with Disney where he originated the role of a new villain, Tyler would return to the stage in 2006 in the World Premiere production of The Lord of the Rings the Musical.
"Landing a spot in the cast of The Lord of the Rings is certainly one of the highlights of my career," says Tyler. "A lot of great performers put their hearts and souls into that show."
The stage would beckon gain, and the next three years would see Tyler performing in stage productions ofDirty Dancing and The Lion King.
He then landed gigs in a number of high-profile commercials (Coors Light, Zantac, Tim Horton's) before signing on as an acting coach and guest star on YTV/Teen Nick's sitcom, Life With Boys. That has led to a growing TV career with recent roles on Copper and Orphan Black. Tyler has just finished shooting a guest role on an episode of CBC's Murdoch Mysteries, which will air as the fifth episode for season 7.
"I'm happy to be recognized in as many genres as possible," muses Tyler. "I am fairly well-known for my musical theatre work, yet commercials have certainly given a national boost to my profile. And while I enjoyed working with young actors an acting coach, I am excited with these new opportunities in television."
It is unlikely that this hard-working actor will ever stop looking for the next role on the horizon. Despite his growing resume, Tyler must continue to fight for jobs in the very competitive world of acting.
"Right now I'm in audition mode," reports Tyler. "There are a fair number of television shows shooting in Toronto right now and I'm trying to get onto as many of those as possible."
Tyler has a philosophical approach to achieving success in his chosen career, where dozens of auditions can simply lead to dozens more. Even the world's most successful actors still have to audition. He offers these words of advice for kids with dreams of the big stage.
"Go for it. What's the worst that can happen? You fail? I fail all the time and I do it for a living."
One successful audition has led to a role in the upcoming production of Les Misérables at the Princess of Wales Theatre in downtown Toronto.
"I am excited to be involved in such an epic production – it's a childhood dream," says Tyler. "Rehearsals begin in August so I have until then to read the novel and learn as much music as I can."
With his ongoing accomplishments on the stage, and with increasing exposure on the small screen, are feature films next on the horizon for Mr. Murree?
"There are lots of features that are shot in Canada and I would love to have that experience," says Tyler. "No matter what though, I'll always return to the stage. I love the stage. It's my home."
You can keep in touch with Tyler via his website at tylermurree.com
Tyler Murree is also featured in the new edition of Cornwall Living magazine. You can order your complimentary copy by clicking here.