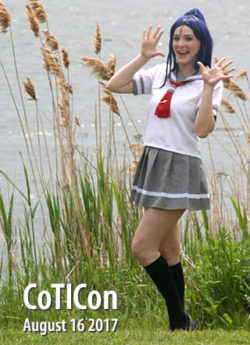 CoTICon Back for More Fantastic Fun
August 8, 2017
Cornwall Ontario – Cornwall's fourth annual CoTICon is fast approaching, returning with a full day of exciting activities.
CoTICon is Cornwall's only convention for anime, comic and geek culture enthusiasts. First created in 2014, the convention features exhibits, vendors, artists, cosplaying activities, gaming competitions, costume workshops, and so much more!
The event kicks off on Saturday, August 19th at 11:00 am at the Lamoureux Park Bandshell & Waterfront and runs until 5:00 pm. It will once again be a colourful crowd in the park as attendees are encouraged to show their love of geek culture by dressing up as their favourite fictional characters. The cost of the event is $5 a person.
Activities and Events
There are various fun activities and events not to miss this year at CoTICon.
"The entire event will be taking place outside at the park, a great place for cosplaying attendees to take photos and hang out. Our popular activities like Pokemon Go LIVE, Pokemon Pageant and other Pokemon GO events will also be included into our event, as well as over 6 new games created by myself and the CoTiCon Team," says Annie Derochie, event organizer and founder in an interview with The Cornwall Seeker.
As this marks the 25th anniversary of the debut of the classic video game MarioKart, the convention will be celebrating this iconic video game release. MarioKart themed events are featured in this year's event agenda such real-life MarioKart races that will involve running, problem-solving, building, and other everyday skills. There will also be other MarioKart themed activities including a fun photobooth, dress up, a scavenger hunt, and a best dressed Mario character contest.
In addition to MarioKart, the convention will feature Pokemon themed events. Follow Ash Ketchum and Pikachu as they will be present all day offering the following activities:  3DS Tournament, Card Exchange, specialty Tic Tac Toe, Pokemon Pageant, and Pokeman Twister.
For the video game lovers, Cornwall's Game Room will be set up on stage with some vintage gaming consoles and the most action packed games. Also on stage will be the MarioKart Gaming Battle, where gamers can compete against one another to win the ultimate virtual cup.
Besides all these activities, there will be an array of free contests, giving attendees a chance to win great prizes. Enter either the Pokemon Pageant, the Costume Contest Mini Masquerade, or  one of the Super Mario Kart Tournaments!
Other special guests and entertainers at the event include Tsuki, StardustBlader, Mae-Gwyn and Bandit Spurs.
CoTiCon had originally begun as part of the Cornwall Business Enterprise Centre (CBEC) Summer Company youth entrepreneurial program. The program, which provides students the opportunity to start and operate their own business during the summer months, helped DeRochie start the convention that keeps growing more popular each year.
Partners and Sponsors
Cornwall CoTICon has partnered this year with Beyond 21 Foodfest and the Kinsmen In Motion Antique car show. The crowd is encouraged to participate in the Con activities, check out the antique cars, and grab food on Pitt Street to support Foodfest. To learn more about Foodfest and the car show, visit the following link: (Choose Cornwall Stories)
"We will also be doing a full cosplay parade through food fest (led by yours truly). The Kinsmen in Motion Car Show is also a very smart partner for us, especially considering we are celebrating a game involving cars and racing this year," says Derochie in the interview.
The event is sponsored by the Optimist Club of Cornwall.
For more information, please follow these links:
Categorised in: Community