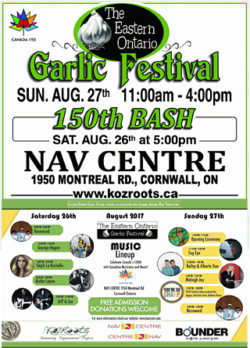 Eastern Ontario Garlic Festival Kicks Off 3rd Year
August 25, 2017
Cornwall Ontario – The 2017 edition of Eastern Ontario Garlic Festival has found a new home – the grassy knolls of the NAV CENTRE overlooking the St. Lawrence River.
Celebrating 150 years of Canada's Confederation, the Garlic Festival promises to continue delivering locally grown produce (and plenty of garlic, of course!), locally produced goods and artwork, as well as art from local artists, and much, much more. The event also offers local community groups and not-for-profit organizations an opportunity to showcase their services, as well as to partner with local growers to create fundraisers.
The festival takes place Sunday, August, 2017 from 11am – 4pm.
While the Festival has garnered a lot of attention over the last 3 years for providing family-friendly activities and workshops, art, as well as plenty of garlic and local food, each year boasts some new developments. A quick round-up of those new developments includes:
a 150th Bash on Saturday night  5pm to 11pm (August 26, 2017) at the Jet Set Pub featuring local prepared food vendors, a special local food menu at the pub and drinks including Strathmore Orchard Wines and other local brews, music and dancing headlining artists from the region and only Canadian music (both covers and originals);
a back-to-school and work fashion show produced by the The Agape Centre, Baldwin House and Salvation Army on Sunday;
Children's activities facilitated by The Early Learning Centre and Big Brothers & Sisters;
High Tea being served throughout the day
Corn Roast hosted by the United \Way and McCrae's Farms on both Saturday night and Sunday;
and a petting zoo from Vanderlaand the Barnyard Zoo.
"The community support to bring this event to life really is a reflection of how we are all outstanding in our fields, and that by everyone giving a little we get a whole lot of festival that showcases all the incredible assets we have access to all around us," says Brenda Norman, Festival Organizer.
The NAV Centre will be offering tours of the facility to Festival patrons on Sunday, along with special room rates available for those visitors who may want to make a weekend of it.
"We are excited to be hosting this event at The NAV Centre and look forward to making this year's Eastern Ontario Garlic Festival yet another great success." said Kim Coe-Turner, General Manager of the NAV Centre. "This is a great opportunity to demonstrate how the NAV Centre can facilitate a wide range of activity from conferences to festivals and more".
It is important to note that due to the Cornwall Triathlon, there will be a detour to access the NAV CENTRE site early Sunday morning until NOON. The alternative route starts from Second Street East, turn onto Billington Drive, turn right on Concord Avenue, turn left into the NAV back road. Please use the football field along Montreal Road for parking.
The festival is organized by Kozroots Community Empowerment Projects. As a local, grassroots, not-for-profit organization, KCEP has at the heart of all its initiatives and projects the goal of supporting the local community with agri-food, and the EOGF is no exception.
Categorised in: Community