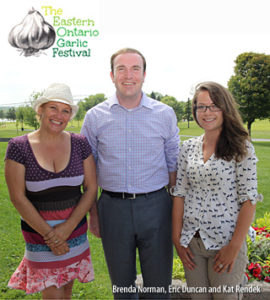 Eastern Ontario Garlic Festival Set For Late August
July 14, 2015
Cornwall Ontario – Garlic lovers and local foodies rejoice – the First Annual Eastern Ontario Garlic Festival is coming to Cornwall this summer.
Local garlic producers, farmers, artisans, and community organizations will unite in the picturesque Lamoureux Park along the banks of the St. Lawrence River to celebrate everything in the region that helps people and communities grow.
The festival will run from 9 am to 5 pm on Sunday August 30.
This ground-breaking event is produced by Kozroots Community Empowerment Projects (KCEP), a non-profit organization working on several projects for the common good of the community.
"This event represents the heart and soul of what we are trying to do with KCEP.", explained Brenda Norman, owner at Kozroots Garlic and Herb Farm and President of KCEP.  "We are working collaboratively with countless members of our community to create an event that represents, attracts, and is accessible to everyone."
The Eastern Ontario Garlic Festival will feature a variety of garlic themed vendors, and activities for the whole family.
Free family and community friendly activities will be plentiful, including garlic cooking and gardening demonstrations, Iron Man obstacle course for teams and families, an apple pie baking contest, a corn roast, face painting, artists' corner, and live musical entertainment.  Peter McClusky, author of the Ontario Garlic Book, will also make an exciting guest appearance to talk about the history of garlic in Ontario.
"Food and fun are fabulous avenues for uniting community" Kat Rendek, Coordinator of the All Things Food SDG Community Food Network.  "We have no doubt that this festival will help local residents and visitors celebrate all that our part of Eastern Ontario has to offer".
The Festival is sponsored by Homestead Organics, the City of Cornwall, Prescott & Russell Counties, the United Counties of Stormont, Dundas & Glengarry, and many other community organizations.
"Homestead Organics is pleased to support the Garlic Festival as an important effort to bring local producers and consumers together", said Tom Manley. "We join them in celebrating a culture of delicious and creative local food, and goods that are good for the economy, the environment, and the community."
All proceeds from this festival will go towards Green Thumbs Project, a new initiative launching in the spring of 2016 for children and adults with developmental disabilities.
"Program participants will be invited to work their own plot at Kozroots Farm, a garlic and herb farm located north of Monkland, as a way of learning how to grow produce for themselves and for farmgate sale" said Brenda Norman. "All profit from farmgate sales will go right back into the hands of the Green Thumb farmers as income."
In addition to their jobs on the farm, the program's participants will also create artwork and other upcycled goods to be presented for sale at the Garlic Festival.
To date, Cornwall and the surrounding communities have been very receptive to the overall goals of the festival.
"Our community is becoming more interested in buying local and supporting producers close to home, but they often don't know all that is available to them," says Eric Duncan, Warden for the United Counties of Stormont, Dundas, and Glengarry. "The Eastern Ontario Garlic Festival is a great way to promote and showcase the diversity and skills of our local producers, restaurants, entertainers, and community organizations."
All interested vendors, artists, musicians, community partners, or general volunteers are invited to contact the organizers for more more information: