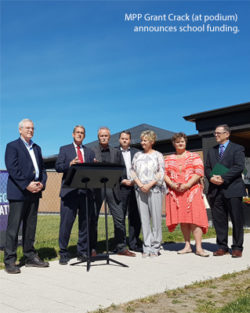 Funding Announced for New School in Cornwall
June 15, 2017
Cornwall Ontario – Ontario has announced funding to build a $39 million secondary school in Cornwall.
The announcement is part of an overall larger investment in the Upper Canada District School Board, which totals $52.6 million dollars. The investment covers 3 projects:
$2.6 million in funding to build an addition at Roxmore Public School in Avonmore in order to accommodate additional students from North Stormont Public School
$39 million in funding to consolidate Cornwall Collegiate Vocational School and St. Lawrence Secondary School into one secondary school (grades 7-12), to be located in Cornwall
$10.8 million in funding to consolidate Toniata PS and Commonwealth PS (with Prince of Wales PS) into a new elementary school in South Brockville
"I think these are great investments," said Grant Grack, MPP for Glengarry-Prescott-Russell. "They are going to certainly build on our communities and provide the necessary new jobs that we need to keep moving forward."
The capital upgrades will ensure that there are ample opportunities for as many students to achieve academic success as possible.
"These upgrades provide our students with the necessary support they require to continue on their educational path in the best facilities available," said Chair Jeff McMillan of the Upper Canada District School Board.
The above investment is part of 120 announced school infrastructure projects throughout Ontario.
"We can ensure students have the best possible learning environment while enabling school boards reduce the cost of underutilized space," says Mr. Crack. "I look forward to watching these school communities grow and thrive in the future."
About the Upper Canada District School Board
The Upper Canada District School Board serves the far eastern region of Ontario, including the counties of Lanark, Leeds, Grenville, Stormont, Dundas, Glengarry, Prescott and Russell.  At 12,000 square kilometres, it is one of largest school districts in Ontario.
Over 26,000 students attend 86 elementary and secondary schools at UCDSB. In 2016, 17,712 students were enrolled at the elementary level, 8,293 at the secondary level, and 292 at the alternative/continuing education level. UCDSB employs approximately 4,300 permanent and occasional staff members.
Categorised in: Community