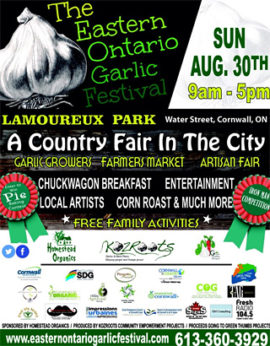 Garlic Festival Adds Flavour to Lamoureux Park this Sunday
August 28, 2015
Cornwall Ontario – Garlic is a wonderful seasoning to add aroma, taste, and added nutrition to your dishes. It has been used by humans for culinary (and sometimes medicinal) purposes for over 7,000 years.
Garlic is also grown locally in the Cornwall region, and will celebrated this weekend at the first ever Eastern Ontario Garlic Festival.
"We are encouraging people to come out both to take part in a day filled with fun stuff and to educate themselves and pick up local produce," says organizer Brenda Norman.
The festival takes place all day Sunday along the St. Lawrence River in Lamoureux Park. Take a stroll through the park and visit with a wide variety of food vendors, farmers and artisans. There is something for everyone!
Organizers have also put together several events throughout the day, including cooking demonstrations by local chefs, obstacle course,  a pie baking contest, drumming circle, corn roast and other activities.
Author Peter McClusky will also be on hand to talk about garlic and sign copies of his new book, Ontario Garlic: The Story from Farm to Festival.
"The taste of Ontario garlic is as rich and varied as its history," says Peter McClusky. "It has become a chef's go-to spice, and I am looking forward to sharing garlic stories and garlic growing tips and recipes in Cornwall."
Mr. McClusky is also the Festival Director for the Toronto Garlic Festival. Similar festivals are popular around the world, and Cornwall's festival brings the total of Ontario garlic festivals to 10.
The Eastern Ontario Garlic Festival comes at end of Restaurant Week, and caps off a busy summer that saw numerous food related events in and around Cornwall.
"Food and fun are fabulous avenues for uniting community" Kat Rendek, Coordinator of the All Things Food SDG Community Food Network.  "We have no doubt that this festival will help local residents and visitors celebrate all that our part of Eastern Ontario has to offer".
All proceeds from this festival will go towards Green Thumbs Project, a new initiative launching in the spring of 2016 for children and adults with developmental disabilities.
The Eastern Ontario Garlic Festival runs from 9:00am to 5:00pm this Sunday August 30 in Lamoureux Park. More information is available online.