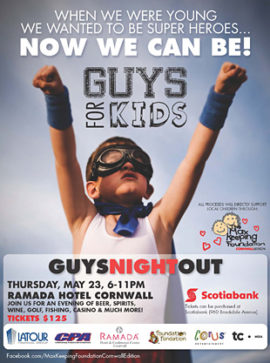 Guys for Kids Debuts Thursday May 23rd
May 20, 2013
Cornwall Ontario – A new event is about to debut in Cornwall, and men in the city may never be the same again.
"Guys for Kids" is the name of the event which promises to cater to the inner desires of men (food, drink and games) – all for a good cause. The event takes place on Thursday, May 23rd 2013 at the Ramada Hotel & Conference Centre in Cornwall, Ontario.
"We promise a night of fun and excitement – all for a good cause," said Gilles Latour, one of the event organizers.  "There hasn't been an event like this before and the buzz is building – you won't want to miss it!"
Guys for Kids will raise funds for the Max Keeping Foundation – Cornwall Edition, with all proceeds directly benefiting children in the Cornwall community.
This unique "Guys Night Out" theme will offer a guy's night of 'pampering' including:
Beer sampling from Canadian craft brewers Beau's, Wellington, Church-Key, Hockley Valley, and McAuslan
Wine and spirits sampling from Philippe Dandurand Wines, Jim Beam, and Forty Creek
Food selection to satisfy your cravings, including a variety of meats and pastas
Golf stations that will test your swing (on-site golf simulator)
Fishing stations displaying the latest fishing gear
Casino station to bring out your inner James Bond
Prizes and auctions
Networking/Socializing with special guests and local business & community supporters
Doors will be open at 6:00 p.m. and – for the price of admission – attendees will have their fill of drink and food, golf and fishing stations, car displays, on-site massage station, and more.
"Dozens of young kids in our community are in danger of missing out on the thrill of playing organized sport, as their families simply cannot afford to enrol them ," said Gilles Latour. "All funds raised Thursday night will be used to help local kids, and in turn help build a stronger community."
Max Keeping will be in attendance, as well as other special guests that include professional athletes, media figures, and local business and community supporters.
Open to All
The event is open to both men and women – all are welcome to attend to help raise funds for a great cause.
Reserve Your Ticket!
Tickets are limited and selling fast!  Individual tickets are $125 each, or groups/companies can save $100 by purchasing a pack of 10 for $1150. Tickets can be purchased at Scotiabank (960 Brookdale Avenue).  Organizers expect a sold out event and space is limited to the first 250 people, so people are strongly encouraged to pick up your tickets in advance.
About the Max Keeping Foundation – Cornwall Edition
The Max Keeping Foundation – Cornwall Edition is a non-profit organization that assists financially disadvantaged children and families in the Cornwall area.  Latour Financial Group works with the Max Keeping Foundation to oversee the Cornwall chapter, and funds raised go towards the Foundation's Play to the Max program. Offered in partnership with the Ottawa Senators Foundation, Play to the Max provides grants to ensure economically disadvantaged children can access sports and recreation programs.
Last year, the Max Keeping Foundation – Cornwall Edition invested over $50,000 to support economically disadvantaged children in Cornwall and surrounding area. All of the funds raised locally go directly towards supporting local youth.
For more information on the Max Keeping Foundation – Cornwall Edition, click here.