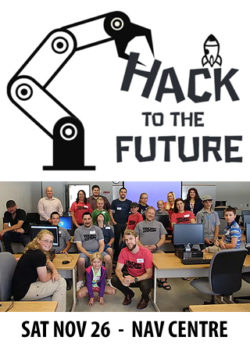 Hack to the Future 2.0
November 25, 2016
Cornwall Ontario – Local innovators, strategists, creatives, and technologists are gathering together on November 26th for an amazing, fun-filled day where technology is used to develop new ideas to help build a better world.
"The event is an opportunity for innovators of all ages to explore the ways technology can be used to help solve challenges within the community or to help create a new business opportunity," says organizer Kelly Bergeron of Code Heroes.
The event is being held at the NAV CENTRE on Saturday November 26 and runs from 10am to 7pm. The event is open to people 12 years of age and up. Participants are assembled into teams at the beginning of the day and have to work together to come up with a solution to an identified problem. At the end of the day, the groups make a pitch to panel of judges.
The very first Hackathon was held at St. Lawrence College in August and was a great success.
"Cornwall's first hackathon brought together a diverse range of participants and organizers," says Ryan Seale of Seale Projects. "There were innovative ideas and interesting collaborations. But most importantly, the group as a whole created something that wasn't there before by helping each other."
The second Hackathon is free and open to those who are 12 years old and up. You can register online as a participant, mentor, or spectator at :
https://www.eventbrite.com/e/hack-to-the-future-tickets-28760876556
"We provide lunch and really cool t-shirts," says Ms. Bergeron. "You don't have to bring a laptop, just your awesome ideas!"
Hack to the Future is being organized by Code Heroes and the Innovation Task Force. You can learn more online:
Web : http://www.hacktothefuture.ca/
About Code Heroes
Code Heroes is dedicated to bringing technology and innovation classes to the Cornwall community and surrounding areas. Earlier this year Code Heroes launched Cornwall's first-ever "Learn to Code" program, helping neophytes and tech-savvy kids alike learn more about opportunities created by technology.
About the Innnovation Task Force
The Innovation Task Force is a group of energetic members of the community who have an interest in seeing Cornwall grow by embracing change. It was formed to identify opportunities where technology could benefit the people of Cornwall and area, in order to create new opportunities for people of all ages and all skillsets.
Categorised in: Community