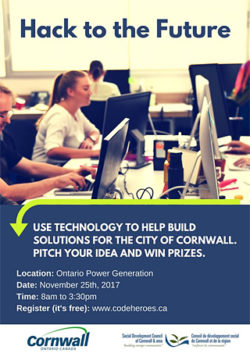 Hack to the Future set for November 25
November 16, 2017
Cornwall Ontario – Local innovators, strategists, creatives, and technologists are invited to participate in Hack to the Future: Civic Tech Edition.
The event will be held on Saturday, November 25th from 8am to 3:30pm at the Ontario Power Generation Visitor Centre.
This will be the fourth Hack to the Future event, and the first to focus on local community issues such as transportation, childcare, tourism, economic development, youth involvement, and have the option of working alone or in a team.
"There are 35 people registered so far, but we would welcome more participants!" says organizer Kelly Bergeron.
Participants do not need to be experts in technology but they do need to be passionate about creating innovative opportunities and solutions for their community.
"The City of Cornwall is pleased to be a partner in this exciting event," said Mayor O'Shaughnessy. "We're looking forward to collaborating with the participants and exploring ways to make our City an even better place."
Participants will be given datasets, tools, and instructions beforehand and will have the chance to work on their ideas for up to 10 days. At the end of the event day, participants will present to a panel of judges including Mayor Leslie O'Shaughnessy, Sage Franch (Microsoft Canada), and other high-profile members of the community.  First place will be a cash prize of $1000.
Ms. Franch, the founder of TrendyTechie.ca, will deliver the lunchtime keynote speech.
This event is a partnership with the City of Cornwall, Choose Cornwall, the Social Development Council of Cornwall and Area, and Code Heroes.
"The Social Development Council is excited to be part of this type of event, especially since this one is focusing on local civic issues," says Alex DeWit. "It's always great to hear creative ideas and solutions from community members about issues that directly affect them."
Participants are required to be 13 years of age or older and will receive an exclusive Hack to the Future t-shirt, free lunch, and swag sponsored by Choose Cornwall. The event is FREE and open to the public.
Register now at www.hacktothefuture.ca.
Categorised in: Community