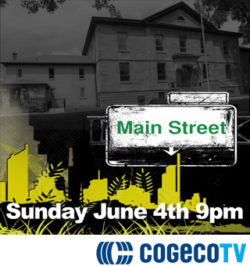 Historic Jail and Courthouse to be Featured on COGECOtv
June 1, 2017
Cornwall Ontario –  Cornwall's historic jail and courthouse will be featured on a new 90 minute documentary Main street.
The program airs across the entire COGECOtv Ontario network on Sunday, June 4th at 9 pm. You can tun in via Cogeco Cable Channel 11 and Channel 700 in HD. From Windsor's famed Hiram Walker's Canadian Club to Cornwall's historic courthouse and jail, viewers will have the opportunity to visit thirteen iconic buildings and get a snapshot into the past.
"Main streets were the central roads built by our founders and where a town grew", noted Calvin Killoran, Manager, Programming and Community Relations at COGECOtv. "As we celebrate Canada's and Ontario's 150th anniversary, we are proud to be able to share with the rest of the province, the story of a building that's  been the anchor of Pitt Street since 1834, close to the site where Cornwall was founded".
The Cornwall Community Museum and SDG Historical Society collaborated on the project.
Ontario's towns have a rich history with many settlements predating confederation and the heart and soul of those communities can be found on main street. Cornwall is one of the oldest settlements in Ontario, having been settled in 1784.
About the Cornwall Jail
Built in 1833 on the site of an army barracks used during the war of 1812, the Jail operated until 2002 when the Ministry of Correctional Services closed the facility in favour of newer, larger facilities in major cities. The cell blocks, common areas, exercise yard and visitation area have been maintained as they were when they were populated by inmates sentenced to jail time.
The Jail is located at 11 Water Street West. Guided tours are available throughout the summer.
Viewers will also be able to watch the Main Street program on COGECOtv-on-demand (ch.602) and visit COGECOtv.com to confirm local encore presentation broadcast times.
About COGECOtv
COGECOtv provides exposure to local organizations, groups and individuals via a wide variety of community programming.  Staff producers direct the activities of many highly trained community volunteers who commit their time to showcase stories, people, places and events from the community.
Categorised in: Community