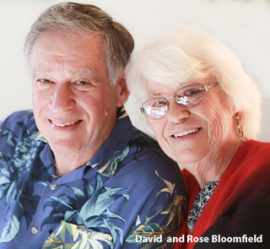 Hospital's New Diagnostic Centre Named After Philanthropists
April 9, 2013
Cornwall Ontario – The Cornwall Community Hospital will name its new diagnostic department The Rose and David Bloomfield Diagnostic Centre in honour of the $1 million donation by visionary philanthropists Rose and David Bloomfield.
The Bloomfields, owners of Cornwall's Morbern Inc., made the donation to the Foundation's Our Hospital Our Future capital campaign , and their gift remained anonymous for years. It will now leave a long-lasting legacy in the city.
Cornwall Community Hospital will name its new diagnostic department The Rose and David Bloomfield Diagnostic Centre in their honour.
Given through the David Bloomfield Family Foundation, this visionary donation was a catalyst gift received early during the Our Hospital Our FutureCampaign motivating several other donors to support the project.
"This region is important to us, says David Bloomfield. "Rose and I started Morbern Inc. in Cornwall over 50 years ago. During that time we've learned a few things. One of the most important is that in business as in life, people are precious. With this gift we wished to help sustain our family's, our friends', our coworkers' and our community's health and welfare for years to come."
"The Bloomfield family epitomizes the true spirit of philanthropy," declared Connie Vardy, Executive Director of Cornwall Hospital Foundation. "It gives me great pleasure to be able to announce this gift after so many years. Mr. and Mrs. Bloomfield were definitely champions of the campaign. Thank you to the Bloomfield family for their commitment towards the entire region."
"We are very thankful for this generous donation," says Jeanette Despatie, CEO of Cornwall Community Hospital. "The Rose and David Bloomfield Diagnostic Centre was an important part of the Redevelopment Project. The diagnostic centre is now second to none. Our hospital is something to be proud of."
"We feel privileged to have been able to make this gift," adds Rose Bloomfield. "David and I feel that we all have to do our part to better our environment however we can. We wanted our contribution to last well into our children's future and into our grandchildren's future."
The Our Hospital Our Future Capital Campaign was initiated in 2004 to raise $12.1 Million from the community to fund Cornwall Community Hospital's redevelopment project. The Campaign reached its goal in 2009 after receiving gifts from 3,166 donors.
About the Cornwall Community Hospital
With its partners, Cornwall Community Hospital's mission is to provide, facilitate and enable high-quality health services and education to the communities it serves; in doing so, it is committed to providing services in both official languages and to the effective management and use of its resources.
More information on the hospital and the redevelopment project can be found at www.CornwallHospital.ca.
About the Cornwall Hospital Foundation
Cornwall Hospital Foundation is a registered charity whose mission is to work in collaboration with the Cornwall Community Hospital, to enable sustainable healthcare philanthropy to support the Hospital in providing high-quality health services to the communities it serves.
Earlier this year, the Cornwall Community Hospital Foundation announced the successful completion of their $3.5 million fundraising campaign that saw the purchase of the MRI and Digitial Uruology table.
For more information, please check out the Foundation website at: