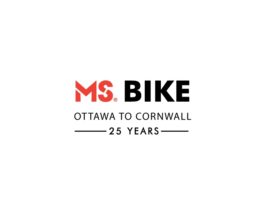 Hundreds of cyclists set to ride into Cornwall for annual MS Bike Tour
August 8, 2014
Cornwall Ontario – Roughly 700 cyclists from Ottawa and the surrounding area will be riding into Cornwall this weekend as part of the 25th annual MS Bike Tour.
The two-day event, taking place Saturday, August 9th and Sunday, August 10th, is one of the largest cycling events in Cornwall, and this year's edition of the tour promises to be one of the biggest yet.
"In addition to raising funds for an important cause, the MS Bike Tour helps to raise Cornwall's profile," said Karen Torrie-Racine of the MS Society of Canada Cornwall & District Chapter. "We are proud to showcase our City and all that it has to offer."
From the starting line in Metcalfe, participants will have the option of completing an 80km, 100km or 125km bicycle ride to the NAV CENTRE, where many of the cyclists will be spending the night.
There will be a number of rest stations along the way manned by volunteers who will be working to ensure the ride goes smoothly.
Cyclists will have the option of making the return to trip to Metcalfe via bicycle or by shuttle bus on Sunday.
Cornwall's picturesque recreational paths along the St. Lawrence River and nearby roadways like Water Street and Montreal Road – which will be used by some cyclists – make the City an ideal location for the end of the first day of the tour.  The majority of riders will be passing through Cornwall on the recreational path as well as Water Street and Montreal Road around mid-day Saturday.
"We would invite residents to come out and cheer on the cyclists as they approach the NAV Centre," said Mrs. Torrie-Racine.
For more information on the MS Bike Tour, please click here.