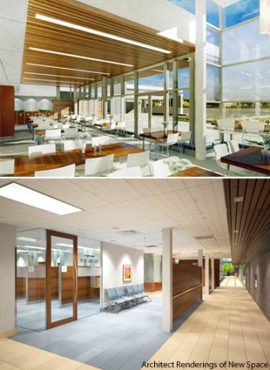 Improvements In the Works at Cornwall Community Hospital
November 14, 2013
Cornwall Ontario – The improvements keep on rolling at the Cornwall Community Hospital.
Months after the opening of a new Emergency Department and surgical suites, contractors continue their work on site improvements. This work is the final phase of the $113 million dollar redevelopment project at CCH and is scheduled to be completed by the summer of 2014.
"This work will result in an improved and enhanced environment for our patients, visitors and hospital staff," said Jeanette Despatie, Hospital CEO. "The work has been scheduled in such a way to minimize the impact on everyday hospital activities."
The most visible change is new construction near the main entrance to the hospital which will result in a new cafeteria, patient registration area, offices for the Foundation and a new learning centre. The design of the new cafeteria is one that welcomes an abundance of natural light and plenty of seating for staff and visitors along with a larger serving area. The learning centre will replace the current library services and encourage more of a self-serve model, including access to computers and reference documents for research.
The space that housed the former emergency department is now being renovated to accommodate ambulatory care. This area will also become the new home for the chapel. Stained glass windows from the former chapel have been preserved and will be incorporated into this new inviting space for staff, visitors and patients. The ambulatory care clinics will have widened hallways to allow for equipment use as well as direct paths to necessary services in diagnostics. Ambulatory care clinics will also be located on level 3, which is also being renovated. This area will accommodate an ophthalmology exam room, procedure room and a multi-use exam/consult/treatment room.
Work has also started on the fourth floor of the hospital, which is being renovated to house inpatient mental health. Features of this area will include bathing facilities, two lounges, activity and separate craft room and a dining room to accommodate 20 people. The dining room will also be used for program activities and socializing. Outpatient mental health will also be located on the 4th floor and include a separate dining room, waiting room and group room. Level 5 is being renovated to accommodate hemo-dialysis. Features of this newly renovated space include updated hemo-dialysis stations, including one that can accommodate a bed and 2 that are in isolation rooms with adjoining washrooms.
In April, hospital staff, Foundation donors and the community celebrated the opening of a 95,000 sq.ft. addition to the Hospital that included a new Emergency Department, Diagnostic Imaging Centre and Surgical Suites. The $113 million project was further enhanced with the purchase of several key pieces of new equipment, including an MRI and CT Scanner.
St. Andrew's Ball
On Saturday, November 30, the Hospital Foundation is hosting the St. Andrew's Ball at the Cornwall Armoury. Up to 400 are expected to take part in this important fundraiser, the proceeds of which will go towards the purchase of new hospital equipment. Guests will enjoy an evening of festivities with friends and neighbours including live music and entertainment all through the night, a five-course dinner and dancing. This formal affair will offer a balanced mix of traditional military values with a wonderful, festive evening that will satisfy the most discriminating taste.
About the Cornwall Community Hospital
The Cornwall Community Hospital is an acute care hospital with approximately 133 beds, and offering a full range of inpatient and ambulatory care services. In a typical year, the Hospital deals with over 52,000 visits to the emergency department, performs 9,000 surgeries and conducts over 200,000 diagnostic/therapeutic exams. The hospital is also a teaching hospital and is associated with the University of Ottawa medical program.
More information on the hospital and the redevelopment project can be found at www.CornwallHospital.ca.