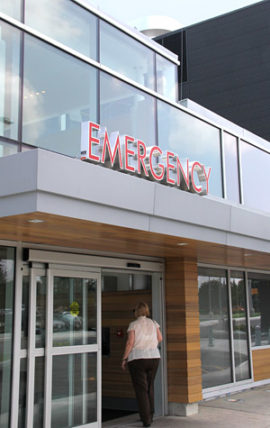 Improving Stroke Care at Cornwall Community Hospital
July 9, 2013
Cornwall Ontario – A new program at the Cornwall Community Hospital (CCH) is succeeding in ensuring local residents are getting swift care in the case of strokes.
The Hospital has been designated as a licensed Telestroke site by the Ontario Stroke Network (OSN) for about a year now. Telestroke is a two-way audiovisual linkup between a neurologist in a stroke centre and an emergency room physician. It is an approach to treating vascular strokes that allows a neurologist to provide remote treatment (from a tertiary site at a hospital in Ontario) for a stroke patient.
The goal is for the neurologist to be able to talk to the patient and the physician about what symptoms they have experienced, evaluate the patient's motor skills, view a computed tomography (CT) scan, make a diagnosis and prescribe treatment. When a severe stroke is imminent, a drug known as a tissue plasminogen activator (tPA), a protein involved in breaking down blood clots, can be prescribed, and is most effective when administered within 4.5 hours of noticing symptoms.
Over the past 12 months, 28 patients at the Cornwall Community Hospital were assessed through Telestroke to determine if they should receive tPA. Of the 28 patients, 7 patients received the medication.
"Telestroke is a clear benefit to the patient," said Jeanette Despatie, Hospital CEO. "By removing the obstacles of time and distance, patients can received necessary medication within the all important initial time frame."
According to a 2011 study presented at the Canadian Stroke Congress, the use of long-distance video and data hookups to link remote community hospitals with stroke neurologists in large centres provides the same level of care as having everyone in the same room. This integral technology uses eHealth Ontario's Emergency Neuro Image Transfer System (ENITS), a centralized web-based picture archiving and communication system for head scans that can be accessed and viewed by participating neurologists.
"Telestroke makes it possible for a neurologist to be at the patient's bedside, even when that patient is hundreds of miles away, and assist the local physician in determining the most effective therapy possible," said Dr. Frank Silver, Neurologist and Medical Director, Telestroke.
With an estimated 50,000 new reports each year, strokes are the third leading cause of death in Canada and are the leading cause of adult disability with 300,000 Canadians living with the aftereffects of an attack. A stroke is an emergency situation where time is of the essence. Early recognition of the five warning signs of a stroke or transient ischemic attack (TIA) may very well save a life if they are noticed and treated quickly enough. Sudden weakness, dizziness, trouble speaking or understanding, vision problems, and severe headaches are all symptoms of a potential stroke.
Studies show that up to 80 per cent of strokes can be prevented by working to reduce personal risk and modifying lifestyle activities such as: maintaining a healthy weight and diet, monitoring cholesterol and blood pressure, moderating alcohol use, abstaining from smoking, and exercising regularly.
If you notice yourself or someone else experiencing these symptoms do not hesitate to call 9-1-1 for immediate medical attention.
About the Cornwall Community Hospital
The Cornwall Community Hospital is an acute care hospital with approximately 170 beds, and offering a full range of patient and ambulatory care services. In a typical year, the Hospital deals with over 52,000 visits to the emergency department, performs 9,000 surgeries and conducts over 200,000 diagnostic/therapeutic exams. The hospital is also a teaching hospital and is associated with the University of Ottawa medical program.
More information on the hospital and the redevelopment project can be found at www.CornwallHospital.ca.