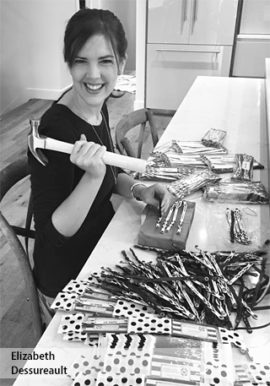 Just Breathe Bracelets Make an Attractive Yet Powerful Statement
December 2, 2015
Cornwall Ontario – Elizabeth Dessureault has a simple message that works in just about any situation: "Just Breathe".
The young 26 year old, non-smoker, who was diagnosed with late stage lung cancer when she was 5 months pregnant, is selling attractive bracelets emblazoned with that message and she is having trouble keeping up with demand.
"I wanted to find a way to spread awareness that ANYONE with LUNGS can get lung cancer," says Elizabeth. "The bracelets help remind everyone to "just breathe" and simply take things one step at a time."
Elizabeth and her mother Robyn Denis came up with the idea for the bracelets, which are modeled after the white lung cancer awareness ribbon. She committed to the project mid-way through October and had the first order ready to ship out November 1st!
Her initial order was for 75 bracelets, hoping that she could sell them all. She created an online store on Etsy called "Fromlizzieslungs". Within 12 hours, all of the bracelets were sold!
"After that, we knew that we were on to something and have been completely overwhelmed by the support for the cause!"
Hundreds of the bracelets have now found their way onto the wrists of people from around the world. Proceeds from the sale of bracelets go to to help fund much needed lung cancer research.
The bracelets are made in Canada out of 100% genuine leather. People can choose between two styles: mini braided and slim straight. Each bracelet is engraved with the words "just breathe". Elizabeth personally hand stamps each bracelet with a clover for luck.
Born and raised in Cornwall, Elizabeth moved to Fort McMurray, Alberta to be with her husband Dax, an RCMP officer. While five months pregnant, she was diagnosed with lung cancer. Having never been a smoker and otherwise healthy, it was a huge shock.  She moved back to Ontario and in June she gave birth to healthy baby boy, Jack. She began treatment shortly afterwards and is progressing well. She is hopeful for a full recovery
"Lung cancer is the number one cancer killer in Canada," says Elizabeth.  "Unfortunately, only 7% of government funding and 1% of personal donations go to finding a cure for lung cancer yet it kills more people a year than breast, ovarian and colon cancer combined! It is my hope that by changing the face of lung cancer and spreading awareness, positive change will occur."
On December 11th, a "White Lights" fundraiser will be hosted in downtown Cornwall. The incredibly generous staff at Cottage Blue Home have partnered with other local retailers to put on the event, which will run from 4-9pm.  Of course, the "just breathe" bracelets will also be available to purchase that evening. More info can be found on the Facebook event page: https://www.facebook.com/events/178801309135111/
"There will be carollers, music, a silent auction, door prizes as well as customer discounts!" says Elizabeith. "It is amazing to see such wonderful support from my hometown, and the evening promises to be a great event!"
You can follow Elizabeth's battle with lung cancer by reading her blog at fromlizzieslungs.wordpress.com