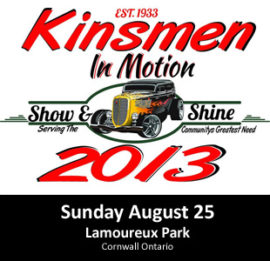 Kinsmen in Motion Show and Shine on Sunday, August 25th
August 20, 2013
Cornwall Ontario – Car lovers will have reason to cheer on Sunday, August 25th as muscle cars and other wheeled beauties assemble in Lamoureux Park for the first-ever Kinsmen in Motion Show and Shine.
In addition to the traditional car show, the Show and Shine will also feature food vendors, live music – courtesy of Cornwall's own Switchgear beginning at 1:30 pm – and a large kids' zone featuring  a giant inflatable slide, a Hot Wheels drag track, a magic show and other play features.
The event runs from 9 am to 4 pm (rain or shine), and admission is free.
The idea for the event came courtesy of Kinsmen Club member and classic car enthusiast Jody Archambault. A participant in car shows himself with his '93 Mustang hatch back, Mr. Archambault saw potential to host a car-themed event in Cornwall's picturesque waterfront park. And he believes it can eventually become a huge draw – similar events in other communities often draw tens of thousands of visitors.
"It's a way of attracting people to the community," he said. "I'm hoping next year we can bring it to the next level."
If the weather cooperates, Mr. Archambault said there could be upwards of 200 vehicles on display for the event, along with motorcycles and other vehicles.
Aside from some help from Mother Nature, Mr. Archambault is hoping residents will come out and support the event in order to ensure it becomes a staple of Cornwall's summer events calendar.
"It's going to be a great family event," he added.
Park admission is free for spectators. The cost to register a vehicle is $10. Gates open at 6:30am with a free pancake breakfast for participants until 8:30am. The show will end with trophy presentations by 4:00pm. Proceeds from the event will benefit Big Brothers Big Sisters of Cornwall and District.
For updates and additional info on the event, check out the Kinsmen in Motion Show and Shine Facebook page (https://www.facebook.com/KinsmenInMotionShowShine).
About the Kinsmen Club of Cornwall
The Kinsmen Club of Cornwall was chartered on April 20th, 1933 and for the past 80 years the volunteer-led club has been working tirelessly to help Cornwall residents. The club's motto is to 'serve our community's greatest need'. The club regularly supports a number of charities and sports in the community, including girls hockey and kids soccer. Some of the more notable projects the club has also supported has been the redevelopment of the Cornwall Community Hospital and the construction of the Aquatic Centre – to name just a few.