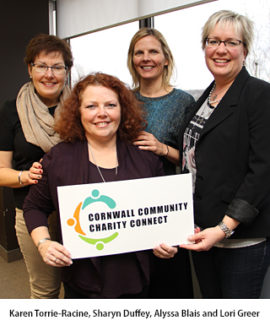 Local Charities Launch Cornwall Community Charity Connect
December 4, 2015
Cornwall Ontario – A group of Cornwall community leaders have launched a new initiative entitled Cornwall Community Charity Connect.
"Charity Connect is a group of local charities that have banded together to share information and to support each other," says Karen Torrie-Racine of the Cornwall and District MS Society.
Group members meet on a regular basis and ensure that planned events do not overlap, and have the greatest possible chance of success. An example is that if one event is holding an event such as golf tournament of running competition on a particular date, other members will avoid scheduling something on the same day.
"We chose the name because the goal is to connect with each other and collectively connect with the community," says Alyssa Blais, Executive Director of the Agape Centre. "We each have several major events per year, and that means that the calendar can get very busy, especially in the summer months."
Charity Connect members will be using social media to promote each other's events. The group is working on developing a Calendar of Events for 2016 and has created a Facebook page that will help members of the public know how they can support or volunteer at events throughout the year.
Cornwall Community Charity Connect is currently comprised of the following charities:
Alzheimer's Society
Cancer Society
Heart & Stroke
Big Brothers, Big Sisers
Agape Centre
Children's Treatment Centre
Beyond 21
MS Society
Boys & Girls Club
St. Vincent de Paul
Canadian Diabetes Association
Carefor-Hospice
Cornwall Hospital Foundation
United Way
The group has an open invitation to any local charity that may want to participate.
"All of these events have a large positive economic impact on the region," notes Lori Greer, Executive Director of the United Way of SDG. "Many of our events attract hundreds of visitors to the community. Charity Connect will help us help local businesses to benefit from all of this activity."
You can find out about Charity Connect via its Facebook page: