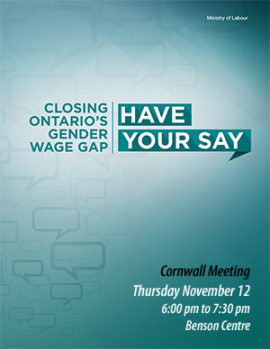 Meeting to Discuss Ontario's Gender Wage Gap
November 5, 2015
Cornwall Ontario – Ontario is seeking public input to develop a strategy which will help close the wage gap between men and women.
"While women participate in all parts of the workforce, there are still barriers that prevent women from achieving their economic potential," says Tracy MacCharles, Minister Responsible for Women's Issues. "That negatively affects Ontario's prosperity. When we are all treated equitably, we all benefit."
Based on the most recent Statistics Canada data, Ontario's gender wage gap ranges from 12-31.5%. The gap is more pronounced for Aboriginal and racialized women and those with disabilities.
A Gender Wage Gap Steering Committee has been formed to examine this issue, and the committee will host consultations sessions across the province to:
Examine how the roles of women at work, in their families, and in their communities are affected by the gender wage gap
Understand how the gender wage gap specifically affects women in the workforce across the economic spectrum
Assess ways in which government, business, labour, other organizations, and individual leaders can work together to address the conditions and the systemic barriers that contribute to the wage gap
Understand other factors that intersect with gender to compound the wage gap, and determine how those factors should be addressed
Cornwall Townhall Meeting
A public townhall meeting will be held in Cornwall:
Thursday November 12, 2015
6:00 p.m. – 7:30 p.m.
Benson Centre
The Cornwall meeting is one of 3 consultation sessions taking place in Eastern Ontario. There are 13 sessions planned in all.
"We need to close the gender wage gap and eliminate inequity for women in the work force," said Kevin Flynn, Minister of Labour. "It's the right thing to do, and I look forward to hearing back from the Steering Committee on how we can take next steps to reduce and eliminate the gender wage gap in Ontario."
Consultation Papers
The Gender Wage Gap Strategy Steering Committee has created two consultation papers. One is for organizations, and one is for individuals. Each has information about the gender wage gap, as well as the questions the Steering Committee hopes will be answered. You can download the consultation papers here: