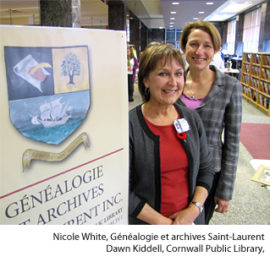 New Genealogy Archive Opens In Library
November 13, 2014
Cornwall Ontario – Bruce Sheardown had hit a brick wall. His attempt to gather more information on his great grandfather had stalled.
The Windsor-area native first believed he'd find more material out of Quebec, only to find out some of his relatives were born in Glengarry.
He had a breakthrough, of sorts, when he began researching at Généalogie et archives Saint-Laurent.
"The people here have been so helpful," he said. "I filled in a lot of the holes. I found relatives going back to France. It blew me away."
Sheardown was quietly doing his work while the pomp and circumstance of the grand opening of Généalogie et archives Saint-Laurent took place at the Cornwall Public Library.
The archival centre officially opened its doors at its new locale. It will have a public presence in the Cornwall Room on the first floor of the library, while the basement will contain reams of archival material in storage.
"This is great for tourism," said Nicole White, pointing to people like Sheardown who often visit the genealogy centre looking for material on loved ones or family members. "This is a real joy for us."
Dawn Kiddell, the Cornwall Public Library's chief librarian, said the partnership between her agency and the genealogy centre goes both ways.
"We're very happy to have them," she said. "We have resource material, but what they've giving us is expertise."
The genealogy centre is open to the public weekdays from 1 to 4 p.m. and Saturdays from 10 a.m. to noon. It contains a wealth of information on locals, including an array of death notices and family tree material going back decades.
About Généalogie et archives Saint-Laurent
Généalogie et archives Saint-Laurent has been operating through fundraising, donations and memberships since its inception in 1986 in the Nativity Church basement under the dedicated guidance of Mme Marcelle Leduc-Paquette. It is the only genealogy centre in the region.
Using Ancestry.com is helpful but other resources are needed to verify local information. The extensive achives collection is contained in three locations:
Main Floor Reference Section
The complete series of Drouin and Petit Drouin and Tanguay dictionaries covering Catholic marriages from the 1600`s to 1930's, the Histor series covering among others, non-Catholic marriages from 1731 to 1825 from the province of Québec .
Cornwall Room (room shared with Heritage Cornwall & Cornwall Historical Society)
All the local obituaries, parish books and local history, Help is available with your research from Monday to Friday from 1 to 4 pm and on Saturday from 10am to 12pm. Become a member for $30 a year or $10 for a consultation to cover the expenses of insurance, additions & repairs to the collection. Bilingual volunteers also answer e-mail requests.
Archives Room in the Library Basement (not accessible to the public)
Local microfilms of baptisms, marriages and deaths of Cornwall, Alexandria and surrounding areas
Quebec parish registers and microfilms (Loiselle, Fabien,Kardex)
Acadian collection
Some American parish books
Filing cabinets of land records and wills for Cornwall, Cornwall Townships, Roxborough, Finch, Osnabruck from 1868 to 1950 approximately
Indexed collection of over 530,000 obituaries
The Clarence Cross collection (60 binders), the Gary Villeneuve collection
The collection of Mormon microfiches
Members' family research and publications
Many genealogical publications from Canada and the United States etc.
Genealogy is an incredible adventure! Take the first step by dropping in to see the vast collection at the Cornwall Public Library at 45 Second St East or call (613)932-4796 ext 264.
The above story was originally published by the Cornwall Seaway News with additional notes from Cornwall.ca.