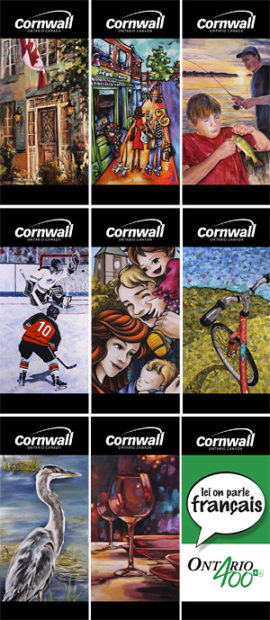 New Streetscape Banners Celebrate Life in Cornwall
May 14, 2015
Cornwall Ontario – Cornwall's streetscape is gaining a little bit of colour with the arrival of new street banners along Water Street and in the Downtown and Le Village business districts.
The colourful banners are replacing existing banners that featured events and people from the War of 1812. Installation of the new series is currently underway.
The new banners celebrate life in Cornwall as depicted by several different local artists.
There are eight different themes featuring original artwork by each artist:
Heritage – Pierre Giroux
Shopping – Tracy-Lynn Chisholm
Fishing – Margaret Boucher
Sports – Anne Wylemans
Family – MiSun Kim-Hunter
Recreation – Heather Smith
Environment – Hye Kyung Yu
Dining – Emily MacLeod
Each banner is unique, and carries with it its own story. For example, the banner with the bicycle is from an piece of art by Heather Smith. The mixed media piece is called "Carried Away" and includes torn paper from a book about Cornwall printed in the 1970's, (The Little City that Grew).
The colourful banners will be joined by a ninth banner that celebrates French culture in Cornwall, in honour of the 400th anniversary of Francophones in Ontario.
Cornwall is one of Ontario's most bilingual cities. Francophones represent 25.4% of the City's population, compared to 15.4% for Eastern Ontario and 4.8% for Ontario as a whole.
This is the fourth series of banner designs erected in Cornwall since 2007.  There are approximately 75 banners in the current series and they are expected to have a lifespan of 2-3 years.
Limited quantities of older banners are available for sale by dropping by the offices of Cornwall Economic Development at the Civic Complex. Proceeds go to the United Way of Stormont Dundas and Glengarry.