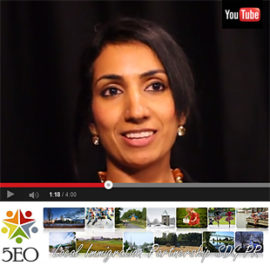 New Video Celebrates Newcomers in Cornwall
October 25, 2013
Cornwall Ontario – Newcomers looking to establish their family in Canada can now learn about the experiences of others, thanks to two new videos from Local Immigration Partnership serving Stormont, Dundas, Glengarry and Prescott / Russell.
The films (one English, one French) are titledWelcome: Newcomers at Home in SDG and PR were developed for the LIP by Cornwall's Fishrizzo Productions.
The videos tell the personal stories of newcomers who now live in Cornwall and the surrounding area, and how they overcame barriers along the way to cementing a new life in the region.
"We hope the videos will encourage newcomers to come to the area by demonstrating help is available to ease their transition and overcome challenges," says Sarah Maynard, Project Manager with the Local Immigration Partnership.
The videos were launched recently at an event attended by over 70 people, including community leaders and newcomers. The video features one-on-one interactions with newcomers who enjoy living and working in Cornwall.
"This is a beautiful city. I'm so glad to be in Canada, and Cornwall," said Rabia Zeeshan, a Pakistani woman who moved to Canada nearly 10 years ago, and has been living in Cornwall the last five. "I know lots of people will view this video and decide to come here."
The video project comes at a time when interest in Cornwall from new residents is at an all-time high.
"Cornwall is an affordable and welcoming community that is proving to be increasingly popular destination for newcomers," said Bob Peters, Senior Development Officer. "These videos are an excellent and welcome addition to our new resident information package."
The ChooseCornwall.ca has a dedicated page with links to key immigration information for newcomers. The page highlights the various local agencies providing servcices in the Cornwall area. The federal government, through the Citizenship and Immigration Canada, provided funding for the production of the video.
"We hope that video will be seen by as many new immigrants to Canada as possible, and we are relying on people to spread the word and share the video links," says Ms. Maynard. "Our wish is that these videos will be seen all over the world."
About the Local Immigration Partnership
The 5 Eastern Counties Local Immigration Partnership (LIP) is a collaborative community initiative which is designed to strengthen the role of local and regional communities in serving and integrating immigrants. The concept for Local Immigration Partnerships was developed as a joint initiative of Citizenship and Immigration Canada and the Ministry of Citizenship and Immigration Canada and was further refined in consultation with the Association of Municipalities of Ontario. For more information, visit the LIP website or Facebook page: