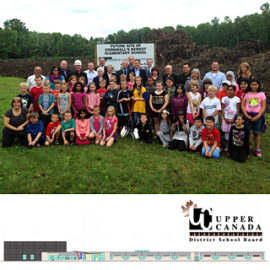 Official Sod Turning For New Elementary School
June 23, 2015
Cornwall Ontario – The new elementary school in Cornwall took another step toward reality Tuesday when the Upper Canada District School Board hosted an official sod turning.
"This new building will provide students in Cornwall with a state-of-the-art setting offering both core and immersion programming," said UCDSB Second Vice-Chair David McDonald following the event. "When the school is up and running, there will be many opportunities for learning both inside the classroom and outside – thanks to the location and the design of the building."
The new 579-pupil school will replace the aging East Front Public School and Gladstone Public School. The 50,667 square-foot, air-conditioned building will feature five kindergarten classrooms, 19 regular classrooms, a multi-function resource space with a stage, project/resource rooms adjacent to classrooms, and environmental site design focused on tree conservation. The building and site have been planned with Leadership in Energy and Environmental Design (LEED) in mind. The board's goal is to receive a Silver LEED certification.
"This exciting project demonstrates our board's dedication to Cornwall and to helping our students here succeed in their learning," said UCDSB Director Charlotte Patterson.
"This new school will provide our students with an environment conducive to modern teaching and learning and will enhance the educational experience for our students," added Joe Harty, principal of East Front Public School.
"This facility will help support many of the goals we have for our teaching practices as we encourage our students to become critical thinkers and problem solvers," explained Gladstone Public School Principal Beth Armstrong.
"Our students will enjoy the use of top-of-the-line technology, innovative furniture, and a large beautiful gym," said Kelty Grant, the incoming principal at East Front Public School who will also serve as principal at the new school.
"Everything about the school has been chosen and planned with students and learning in mind."
The building is being constructed by general contractor Bourgon Construction, the same firm behind the successful builds of Cornwall's Central Public School in 2006 and Vankleek Hill Collegiate Institute in 2009.
Workers for Bourgon have been focusing on tree conservation while clearing the site, and construction on the new building will begin soon. The school is expected to open in September 2016.
More information about the Upper Canada District School Board can be found online: