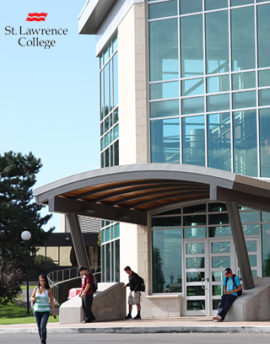 Open House At St. Lawrence College This Saturday
March 27, 2015
Cornwall Ontario – Have you already been accepted to St. Lawrence College and want to learn more about your program?
Are you still thinking of applying, or just plain curious about SLC?
There is no better time to learn more about St. Lawrence College than at the Spring Open House taking place at the Cornwall campus on Saturday, March 28, 2015 from 9:00am until Noon.
Tour the state-of-the-art learning facilities and check out the modern student residences with a picturesque view of the St. Lawrence River. Learn about SLC's extensive campus life features, athletic opportunities, and so much more. Staff and students will be on hand to answer questions about the College's full-time programs, including numerous online learning opportunities.
"We're really looking forward to showcasing what SLC has to offer at our Spring Open House events," said Glenn Vollebregt, SLC President. "Each of our three campuses has its own unique program offerings and learning environments, and we welcome all of our new incoming students to our College."
Available Bursaries
On the heels of the successful The Difference We Make campaign, a myriad of bursaries are available for students at the Cornwall campus.  New this year is The Joyce Foundation Ed Lumley bursary, available to entrance-level students who are applying directly out of high school or have been out of high school no longer the one year. Click here to apply for available bursaries
Program Opportunities
Have a penchant for technology?  Have you considered the Game Development Program? College faculty will be demonstrating 3D simulation programs. Considering a green career?   Learn more about SLC's Environmental Technician Program. Looking to join the fast growing Logistics sector? You will want to talk to staff about Cornwall's popular programs.
St. Lawrence College offers over 85 full-time programs on its three campuses, including Fast-Track delivery, graduate certificates and four-year degrees. International partnerships and articulation agreements mean you can take your SLC education further with opportunities in Australia, Barbados, Ireland, the US, and more.
With a graduate employment more than 88 per cent, St. Lawrence College is well ahead of the provincial average of 83.4 per cent.
About St. Lawrence College
With three friendly campuses in Brockville, Cornwall, and Kingston, St. Lawrence College is an integral part of the economic life and social fabric of Eastern Ontario with a close-knit community of 7,000 full-time students, and more than 70,000 proud alumni. Hundreds are also enrolled in online and continuing education courses each year. St. Lawrence College has many Applied Research projects in progress, and its Corporate Learning and Performance Improvement group has helped more than 350 organizations grow and prosper.