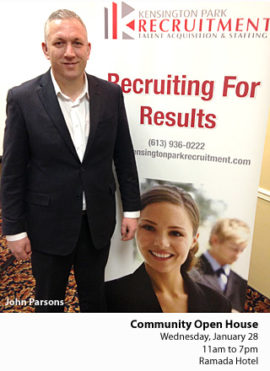 Open House For Job Seekers In Cornwall
January 28, 2015
Cornwall Ontario – An open house is being held today to provide information to people who may be seeking employment or looking for support agencies in the community.
The event is being held at the Ramada Hotel and will run from 11am to 7pm. The event is organized by John Parsons of Kensington Park Recruitment, a local HR firm.
"We have taked with a lot of people who are looking for a job or need support and it occurred to me that if we were able to bring together several community agencies in one place, it would be of great assistance to them," said Mr. Parsons.
Attendees at the open house today will be able to meet with representatives from:
Job Zone d'emploi
T.R. Leger School
Tri-County Literacy
United Way
K3C Credit Counselling
The Career Tracker Newspaper
Kensington Park Recruitment
Job Zone d'emploi offers a variety of bilingual employment related services to job seekers, while the TR Leger School provides continuing education and immigrant services. The United Way of Stormont, Dundas & Glengarry provides direct financial support to several agencies, programs and services in the Cornwall region.
"There is a strong local network of support for people who may be looking to upgrade their skills, education or simply need help in planning their next steps," says Mr. Parsons. "We want people to walk away today armed with info and resources to help them through this difficult period."
At the same time, Mr. Parsons noted that there are current employment opportunites in the region, with more on the horizon.
"We will be accepting resumes as we expect our clients to being recruiting shortly."
Links to available job postings can be found on the Work in Cornwall page on ChooseCornwall.ca. Information on career help and tips on finding a job in Cornwall is also available.