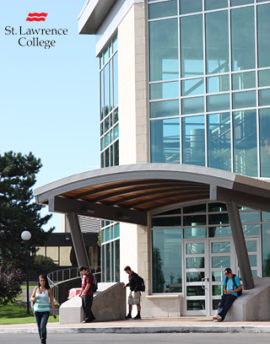 Orientation Kicks Off New Academic Year
August 30, 2013
Cornwall Ontario – St. Lawrence College will welcome new students to the Cornwall campus on Tuesday, September 3, 2013 with fun activities on Orientation Day. The day starts at 8:00am and includes campus tours, program information, games, a BBQ, and much more.
"Orientation Day is a great opportunity for our new students to have fun while connecting with their college community. They will make new friends, meet their professors, tour the campus, and learn about the services that are available to ensure their time at St. Lawrence College is a success," said Glenn Vollebregt, President and CEO.
The Cornwall Campus is set to welcome over 1200 students this Fall, marking the second consecutive year where enrollment has been at record levels. The Cornwall campus offers a wide variety of courses in disciplines such as Business, Nursing, Paramedics, Police Foundations, Journalism, Video Game Development and more.
"The entire faculty and staff at the Cornwall campus are excited to welcome back our students – the future leaders of tomorrow," said Don Fairweather, Cornwall Dean. "The Campus truly comes alive when the students are back, and we look seeing the new students and well as welcome back returning students."
Activities continue during Welcome Week for all returning students:
Wednesday, September 4
12pm–1:30pm: Hotdog Give-A-Way in the Shark Tank Lounge.
Thursday, September 5
12pm–1:30pm: Students can enjoy an Ice Cream Social in the Shark Tank Lounge while signing up for varsity sports and watching the Mr. Teeth Try-Outs.
Friday, September 6
12pm–1:30pm: Surprise Treat Give-A-Way
8pm–2am: Welcome Back Pub
Students can celebrate the start of the year at the Shark Tank Lounge and enter to win great prizes.
About St. Lawrence College
Located along the shores of the St. Lawrence River, SLC has three campuses in Brockville, Cornwall and Kingston. St. Lawrence College boasts 6,500 full-time students from Canada, and more than 40 countries worldwide. The SLC college community includes 20,000 part-time students, 1,000 staff, and more than 70,000 alumni. It also serves more than 3,000 Employment Services clients annually. The college has recently invested in the development of Applied Research and the revitalization of its campuses.
St. Lawrence College is tops in the province when it comes to key performance indicators of a graduates success in finding employment. The following are updated KPI's for 2013.
93.6% of employers were satisfied with the quality of the educational preparation of St. Lawrence College graduates.
90.5% of SLC graduates found employment within six months of graduation.
84.1% of graduates were satisfied with the usefulness of their SLC education in achieving their goals after graduation.
You can find out more information on the St. Lawrence College website:
St. Lawrence College is also featured in the new edition of Cornwall Living magazine. You can order your complimentary copy by clicking here.