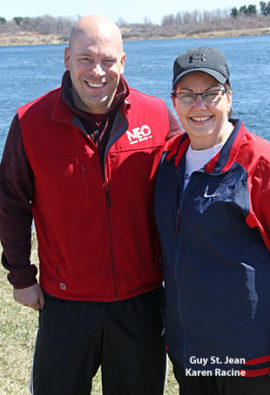 Over 600 Expected In Cornwall To Run To End MS
April 24, 2014
Cornwall Ontario – Looking to shake off those winter cobwebs and get outside?
Take a run (or a walk) along the St. Lawrence River this weekend and help raise funds for MS research.
The  Run to End MS takes place on Saturday April 26 and organizers are expecting one of the biggest fields yet, with over 600 participants registered. The event attracts runners from many parts of Ontario, Quebec, northern New York state and Michigan.
The event takes place on the bike path running along the beautiful St. Lawrence River in Cornwall.
"Response has once again been very high, but we still have spots available," said Karen Torrie-Racine, Volunteer Office Co-Ordinator. "Everyone is welcome!"
Participants can take part in a number of events including a 5K, 10K and 1/2 marathon. The latter particularly attracts many serious runners as the race is exactly one month before the popular National Capital Marathon. Runners use Cornwall's race as a barometer to see how they are doing in their training.
The weekend is all for a good cause, raising funds for the local MS Society.
"Each year we raise around $25,000 and we expect to hit that target again," said Guy St. Jean, Vice-Chair of the Cornwall and District Chapter.
For those looking to come down and cheer on the participants, the 1/2 marathon run and 5K walk depart St Lawrence College at 9am on Saturday. The  5K and 10K runs leave an hour later at 10am.
People can still register, online at mssociety.ca , at the local office on 725 Boundary or at the race itself up to an hour before their race.
The Cornwall and District Chapter of the MS Society of Canada is stiving to be a leader in finding a cure for multiple sclerosis and enabling people affected by MS to enhance their quality of life. The Chapter is overseen by a volunteer board of directors and holds a number of popular events throughout the year, including Italian Night in January and a Golf to End MS Tournament in June. Another very popular event is the MS Bike from Ottawa to Cornwall which takes place August 9th & 10th this year.
More info:
Web: http://chapters.mssociety.ca/default.aspx?ChapterID=306&L=2
Facebook: https://www.facebook.com/pages/MS-Society-of-Canada-Cornwall-District-Chapter/320271811730