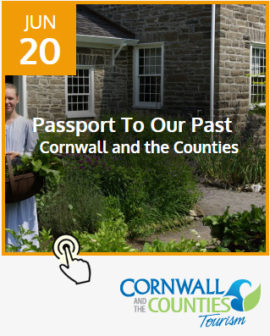 Passport To The Past Celebrates Cornwall This Weekend
June 18, 2015
Cornwall Ontario – Passport to Our Past is a celebration of the storied history of Cornwall and the Counties.
Visitors have the opportunity to experience some of our region's most unique historical sites, each offering free visitations during the event and great informative tours that provide rare, historical insight.
The event is entering its second year and replaces the province-wide Doors Open event in the Cornwall and the Counties region, which formerly took place in September.
This year, the event is held on Saturday, June 20thand Sunday, June 21st, which allows many of our great historical sites to employ summer students and volunteers to assist with the event.
Enjoy a beautiful day in the community and experience the storied history of Cornwall and the Counties!
Participating locations in Cornwall include:
Cornwall Community Museum in the Wood House
160 Water Street
Saturday, June 20: 10 am – 4 pm
Sunday, June 21: 10 am – 4 pm
Trace the social and industrial history of Cornwall and area from 1784 to the completion of the St. Lawrence Seaway construction in 1959 at the Cornwall Community Museum. Featuring archival materials and displays of furniture as well as textiles and household items ranging from different time periods. Located inside a restored Loyalist home built by William Wood in 1840, the Cornwall Community Museum is quite literally a step back in time.
Historic Cornwall Jail
11 Water Street West
Saturday, June 20: 10 am – 4 pm
Sunday, June 21: 10 am – 4 pm
Built in 1834 and remaining operational until 2002, the Historic Cornwall Jail has been maintained in its condition as the day the last inmate was removed from behind its bars. Take a guided tour through holding cells, visitation areas, common areas, the exercise yard and even the gallows where hardened criminals were hanged for their injustices as late as 1954. Get an accurate representation of the conditions inmates lived in at this cool historical site.
St. Lawrence Power Development Visitor Centre
2500B Second Street West
Saturday, June 20: 8:30 am – 4 pm
Sunday, June 21: 8:30 am – 4 pm
Located on the north bank of the St. Lawrence River in Cornwall is the St. Lawrence Power Development Visitor Centre. Newly built in 2010, the Visitor Centre is a state-of-the-art LEED certified building and provides an interactive, historical look at the St. Lawrence Seaway and Power Project. Learn about one of the most significant developments of the area, and take in the beautiful view of the Moses-Saunders Dam from the balcony of this beautiful facility.
There are several other participating sites in SDG, including:
South Stormont
Nightingale House
Lost Villages Museum
The Log Church and Pioneer Graveyard
South Dundas
Carmen House Museum
Aultsville Train Station
South Glengarry
Bethune Thompson House
Nor'westers & Loyalist Museum
Martintown Grist Mill
Lancaster Masonic Lodge
St. John's The Evangelist Anglican Church
North Glengarry
For more information on the Passport to Our Past event, please contact Cornwall and Counties Tourism, or click here.