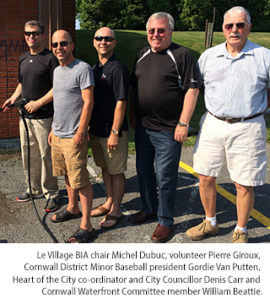 Point Maligne Gets Makeover
July 13, 2016
Cornwall Ontario – Pointe Maligne is a historic site that offers beautiful views of the St. Lawrence River.
Located just east of Marina 200 and Lamoureux Park, Pointe Maligne and the surrounding Legion Park was recently given a 'makeover'.  Work was recently completed to clean up the area, which included new paint for old buildings and other beautification efforts.
"I'd like to invite everyone to come to come down to Pointe Maligne, park your car, and go up into the park area and appreciate the beautiful waterfront views," Le Village BIA chair Michel Dubuc said. "This project represents what Centretown is all about – bringing various community partners with a common goal together in order to complete, in this case, a beautification project."
Representatives from the Downtown BIA, Le Village BIA, the Waterfront Committee and Cornwall Minor Baseball were at Legion Park on Wednesday, July 13 to celebrate the beautification of Pointe Maligne, one of Cornwall's oldest historic sites.
The revitalization of Pointe Maligne included the removal of two mounds of dirt, relocating large boulders, reorganizing the parking lot and repainting the building, baseball diamond towers and dugouts. The project was spearheaded by the Le Village BIA, along with the Downtown BIA, as part of the Centretown Improvement Project.
Local community champions hope to get $500,000 in federal grant money to continue the project, an amount the City of Cornwall has promised to match.
The next steps for the site include adding new stairs leading up to the baseball diamonds. Pointe Maligne will also be the site of one of the new historical plaques the city is planning on putting up along a route which will eventually offer historic walking tours.
"This shows what we can do when we all work together," said City Councillor Denis Carr, representative Heart of the City and the Downtown BIA.
About Pointe Maligne
Pointe Maligne (or La petite pointe maligne), named so by French pioneers, has also been known as Potash Point. The area was settled by British Empire Loyalists in 1784. Led by Sir John Johnson,  the community was renamed New Johnstown, which eventually became the City of Cornwall.
Point Maligne is easily accessible from Bergeron Drive and Harbour Road, as well as via the Waterfront Trail and Marina 200.
Categorised in: Community