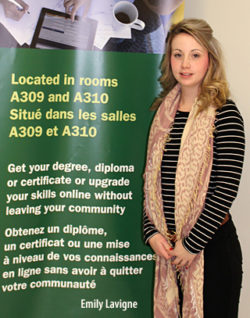 Popularity of Online Education Growing in Cornwall
December 18, 2017
Cornwall Ontario – Online education is growing in popularity in Cornwall.
The number of first-time students using the services at Contact North, also known as Ontario's Distance Education and Training Network, rose to 335 students from 230 students in the previous year.
This represents an increase of 45%.
"Online courses are a great way to work towards a college diploma or a university degree," says Emily Lavigne, Online Learning Recruitment Officer for Cornwall. "It is an excellent way for people to upgrade their education, even while maintaining a full-time job. The course load is completely flexible and up to the individual."
More students also mean more courses being studied.
Course registrations at Contact North have more than doubled this year, rising to 2096 course registrations in 2017 from 893 in 2016.
This represents an increase of 135%.
"The number of courses students take can vary depending if they are just completing their high school education, college or university or training courses," notes Ms. Lavigne. "If a student is completing a university program, the number of courses might be higher as it is typically over a span of four years."
Contact North provides access to education and training through online learning from Ontario's 24 public colleges, 20 universities, literacy, and other training organizations.
In June, Contact North moved its Cornwall offices to the Aultsville Building of St. Lawrence College.
"We consider the increase in course registrations to a combination of a staff efforts and the new location on campus," says Ms. Lavigne "We are proud of the results and look forward to continuing the momentum in 2018".
In 2018, Contact North will open a new online learning centre in the Akwesasne Peace Tree Mall on Cornwall Island.
About Contact North
Contact North, works to improve affordable and equitable access to quality education for Ontarians, support regional and community economic development, and promote a culture of lifelong learning.
At the current time, Contact North provides access to
981 online certificate, diploma, undergraduate and graduate programs
20,088 online courses
7,637 literacy and basic skills and training courses
In Cornwall, Contact North is located in Room A309 at St. Lawrence College. You can reach them by calling 1-855-353-2642 or visit online at:
Categorised in: Community